Tim Cook Named 'World's Greatest Leader,' Reflects on Leading Post-Jobs Era at Apple
Following the release of Becoming Steve Jobs, an acclaimed biography of the late Apple co-founder, Fortune has named Tim Cook the "world's greatest leader," accompanied by an in-depth profile that reflects on the chief executive in the post-Jobs era. The interesting article provides a closer look at Cook's transition from a soft-spoken operations manager to a high-profile leader at Apple, and reveals how Cook has managed the pressure that comes with his new role.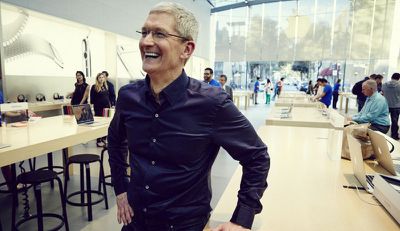 Apple CEO Tim Cook (Image Credit: Joe Pugliese)
Cook brings a different leadership style to Apple, placing more trust in others instead of being as impulsive and manipulative as Jobs often was. The results have been favorable, as Apple has grown to become the world's most valuable company during the three-and-a-half years since Cook took over the helm. Nevertheless, he admits that he has needed to grow thicker skin to handle the intensity that comes with the territory.
"I have thick skin," he says, "but it got thicker. What I learned after Steve passed away, what I had known only at a theoretical level, an academic level maybe, was that he was an incredible heat shield for us, his executive team. None of us probably appreciated that enough because it's not something we were fixated on. We were fixated on our products and running the business. But he really took any kind of spears that were thrown. He took the praise as well. But to be honest, the intensity was more than I would ever have expected."
Despite his successes, Cook has faced a number of senior management challenges since taking over as chief executive, including the disappointment that was Apple Maps, fallout with sapphire partner GT Advanced Technologies and the short-lived hiring of John Browett as Apple's retail chief. Cook reflected on Browett, who never fit in with the company's culture and was ousted after just six months on the job.
"That was a reminder to me of the critical importance of cultural fit, and that it takes some time to learn that," he says. As CEO, "you're engaged in so many things that each particular thing gets a little less attention. You need to be able to operate on shorter cycles, less data points, less knowledge, less facts. When you're an engineer, you want to analyze things a lot. But if you believe that the most important data points are people, then you have to make conclusions in relatively short order. Because you want to push the people who are doing great. And you want to either develop the people who are not or, in a worst case, they need to be somewhere else."
Following the departure of Browett, Cook recognized the need to be patient in his search for a retail chief that could truly fit in with Apple's culture. Last May, the company found its candidate in former Burberry CEO Angela Ahrendts, who discreetly met with Cook in Cupertino, outside of Apple's headquarters, to discuss the future of retail. Ahrendts did not expect to join Apple, but she ultimately reconsidered after she felt moved by Cook.
"The first time I sat down with him, I walked away thinking wow, that's a man of peace," she says. "I just absolutely loved his integrity, his values. Nothing anybody can write, say, or do is going to take him off of always doing the right thing. Not just for Apple, but for Apple's people, for communities, for countries. The world needs more leaders like Tim."
Cook became the first Fortune 500 CEO to publicly come out as gay last year, which he hopes will make other people realize that they do not need to hide who they are. He further expressed that he made the decision of coming out "quite some time ago," adding that, while the United States has made some progress on the issue, he "didn't feel like business was exactly leading the way in the executive suite."
"To be honest, if I would not have come to the conclusion that it would likely help other people, I would have never done it," he says. "There's no joy in me putting my life in view." Referencing the often-cited line that "to whom much is given, much is required," Cook says, "I've certainly been given a lot."
Notably, Cook also revealed he will give away the vast majority of his wealth over time, although he has so far been quiet about his specific philanthropic plans.
He plans to give away all his wealth, after providing for the college education of his 10-year-old nephew. There should be plenty left over to fund philanthropic projects. Cook's net worth, based on his holdings of Apple stock, is currently about $120 million. He also holds restricted stock worth $665 million if it were to be fully vested. Cook says that he has already begun donating money quietly, but that he plans to take time to develop a systematic approach to philanthropy rather than simply writing checks.
The full-length profile has been published in the April 2015 issue of Fortune.