'Becoming Steve Jobs': Rare Insights into Steve Jobs' Evolution and Personality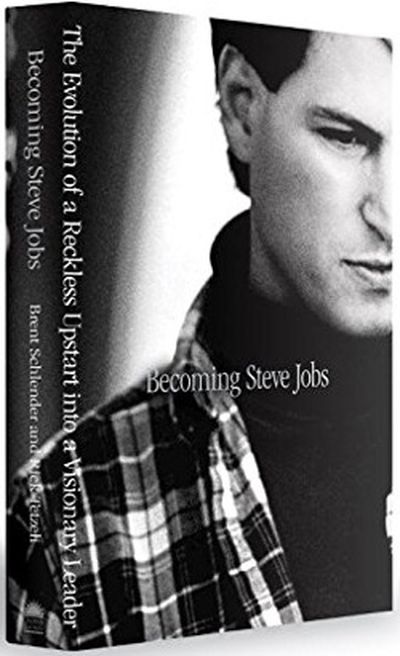 After an initial teaser post from John Gruber earlier this month and several leaks and excerpts, the new Steve Jobs biography Becoming Steve Jobs debuted yesterday, and we've had a chance to read through the book that offers a new look into the life of the Apple co-founder. While Walter Isaacson's best-selling 2011 biography of Jobs was undertaken with Jobs' authorization and participation, many close to him felt it didn't offer an accurate reflection of his personality.
In the wake of that book's debut, former Fortune and Wall Street Journal reporter Brent Schlender, who interviewed Jobs numerous times over the final 25 years of Jobs' life, teamed up with former Fortune colleague and current Fast Company executive editor Rick Tetzeli for an alternative take on Jobs' life. Notably, Schlender and Tetzeli were eventually able to obtain the cooperation of a number of key figures, including Tim Cook, Eddy Cue, Jony Ive, and Laurene Powell Jobs, to share their perspectives on Jobs.
The new book takes a mostly linear approach to telling the story of Jobs' life, beginning with Apple's early days. Much of that early content has been shared in previously published books and articles, but the story becomes more interesting once it reaches 1986, the year Schlender and Jobs first met for an interview when Jobs was in the early stages of building NeXT after having been ousted from Apple the year before.
Schlender's many interviews and discussions with Jobs over the years give him a fairly rare perspective, and Schlender uses that perspective to argue the Jobs of his later years was a very different and more mature person than the perception developed in his brash younger years.
I can't think of a businessman who grew and changed and matured more than Steve. Personal change is, of course, incremental. As all "grown-ups" come to understand, we wrestle with and learn how to manage our gifts and flaws over a lifetime. It's an endless growth process. And yet it's not as if we become wholly different people. Steve is a great object lesson in someone who masterfully improved his ability to make better use of his strengths and to effectively mitigate those aspects of his personality that got in the way of those strengths. His negative qualities didn't go away, nor were they replaced by new good traits. But he learned how to manage himself, his own personal miasma of talents and rough edges. Most of them, anyway.
Tim Cook is one of the most high-profile figures to be interviewed for the book, and beyond the already revealed tidbit about Cook having offered Jobs a portion of his liver, Cook addressed the ways in which he saw Jobs change even since 1998 when Cook joined Apple.
"The Steve I met in early '98 was brash and confident and passionate and all of those things. But there was a soft side of him as well, and that soft side became a larger portion of him over the next thirteen years. You'd see that show up in different ways. There were different employees and spouses here that had health issues, and he would go out of his way to turn heaven and earth to make sure they had proper medical attention. He did that in a major way, not in a minor 'Call me and get back to me if you need my help' kind of way." [...]

"One day he calls my mom–he doesn't event know my mom, she lives in Alabama. He said he was looking for me, but he knows how to find me! And he talked to her about me. There are lots of these things where you saw the very soft or caring or feeling or whatever you want to call it side of him. He had that gene. Someone who's viewing life only as a transactional relationship with people...doesn't do that."
While most biographies and feature articles on Jobs have focused on his work at Apple, Becoming Steve Jobs also dedicates several chapters each to his time at NeXT and his work with Pixar, with Schlender's discussions with Jobs and more recent interviews with a number of key people at those firms offering some interesting details about those aspects of Jobs' professional life. In particular, Bob Iger shared background on how he was able to win Jobs over after being named Disney CEO in 2005 and ultimately negotiate Disney's acquisition of Pixar the following year.
In his interview, Iger related how just minutes before the Disney-Pixar acquisition was to be made official and announced to the public, Jobs confided in Iger that his cancer had returned, giving Iger an opportunity to back out of the deal. Despite Jobs' admission, the deal went through, and his cancer recurrence remained a secret from the public for three years until his second medical leave of absence in 2009 for his liver transplant.
Overall, Becoming Steve Jobs definitely has a feeling of those close to Steve Jobs trying to alter the public perception of him as a person, sharing some of the details of their relationships while the book in some respects glosses over his shortcomings. Those shortcomings are not, however, ignored entirely, with the penultimate chapter entitled "Blind Spots, Grudges, and Sharp Elbows" laying out a number of instances even late in his life where he engaged in controversial behavior.
Steve Jobs certainly remains a polarizing figure, but regardless of how you view the light in which Jobs is cast in this book, it includes a number of interesting anecdotes and perspectives from those who have rarely spoken of their relationships with Jobs over the decades, all tied together by one of the few reporters to have had access to Jobs on a regular basis throughout that time.
Becoming Steve Jobs is available now from a variety of outlets including Amazon and the iBooks Store. The authors will be appearing tomorrow evening at the SoHo Apple retail store in New York City to discuss the book and take questions. They will also be appearing at a Computer History Museum event in Mountain View, California on April 7.