Apple Seeds Fourth iOS 8.3 Beta to Developers, Second Beta to Public Beta Testers
Apple today seeded the fourth beta of iOS 8.3 to developers, nearly two weeks after seeding the third iOS 8.3 beta and more than a month and a half after releasing the first iOS 8.3 beta. Today's beta is also available for public beta testers.
The beta, build 12F61, is available as an over-the-air download and through the iOS Developer Center. Apple has also released Xcode 6.3 beta 4.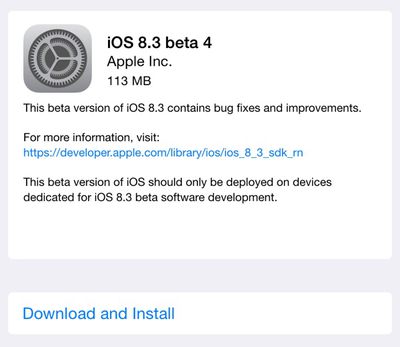 Previous iOS 8.3 betas have included features like a new emoji picker and all new diversified emoji and skin tone modifiers, new country flag emoji and updated emoji icons to represent the iPhone, iMac, and Apple Watch.
Along with those emoji changes, iOS 8.3 brings wireless CarPlay connectivity, support for Google 2-step verification, Apple Pay for the China UnionPay network, several new Siri languages, filters for Messages, a UI change for the space bar in Safari, and more. We've been tracking all the iOS 8.3 changes in our iOS 8 Features Roundup.
What's new in iOS 8.3 beta 4:
iCloud Photo Library - iCloud Photo Library's beta label has been removed again. It has been removed and re-added in past iOS 8.3 betas, so it is not clear whether the service will be out of beta when iOS 8.3 launches.
Messages filtering - An earlier beta introduced filtering in Messages, allowing users to separate messages received from friends and those received from strangers into two categories. In beta 4, the category for iMessages sent from those who are not in a user's contact list has been renamed to "Unknown Sender."