Apple Acquires 'Rock-Solid High-Performance' Database Company FoundationDB
Apple has acquired database company FoundationDB, reports TechCrunch. FoundationDB is a company that "develops scalable and fault tolerant databases that support multiple data models." A notice on the company's site says that it has ceased to offer downloads after deciding to "evolve [the] company mission."
According to TechCrunch, FoundationDB may have been an attractive purchase for Apple due to its ability to handle ACID-compliant transactions quickly and its strong scalability. A company blog post suggested it could achieve 54 billion writes per hour at a cost-per-write of 3 nanodollars.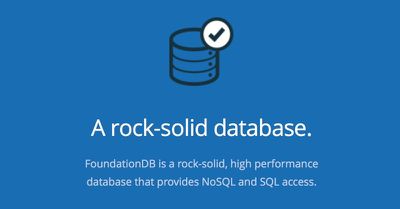 FoundationDB's attractiveness came in the speed at which it handled ACID-compliant transactions and coupled that with strong scalability. FoundationDB hosted a booth at TechCrunch Disrupt 2012, where we first wrote about its approach to a modern NoSQL database and its 'NoSQL, YesACID' motto. FoundationDB's latest engine, which was covered by TC Columnist Jon Evans late last year, scaled up 14.4 million random writes per second.
TechCrunch describes FoundationDB as a "fast, affordable and durable database company" that may have been acquired to boost Apple's server-side technologies for the App Store, iTunes Connect, iTunes in the Cloud, or another service.
Apple confirmed the acquisition with the standard statement that it gives on purchases: "Apple buys smaller technology companies from time to time, and we generally do not discuss our purpose or plans."