ResearchKit Receives Thousands of Sign-Ups Following Launch
Less than twenty-four hours after Apple unveiled ResearchKit, the open source medical framework had received thousands of sign-ups, according to Bloomberg. The report claims that Stanford University researchers awoke on Tuesday morning, the day after Apple's "Spring Forward" media event, to discover that 11,000 people signed up for MyHeart Counts, a cardiovascular disease app built using ResearchKit.
"To get 10,000 people enrolled in a medical study normally, it would take a year and 50 medical centers around the country," said Alan Yeung, medical director of Stanford Cardiovascular Health. "That's the power of the phone."
ResearchKit is an open source software framework aimed at revolutionizing medical studies by making them more readily available to millions of iPhone users worldwide. When given permission, the framework uses the iPhone's various sensors to collect user data such as weight, blood pressure, glucose levels and asthma inhaler use, information that Apple hopes will open up new possibilities for researchers.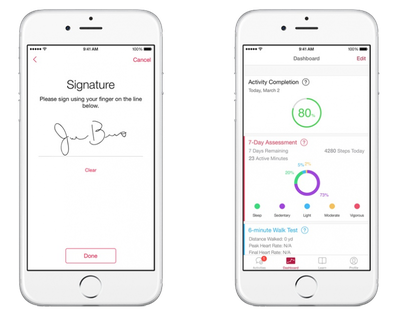 Apple will also enable users to answer surveys and input data directly from ResearchKit apps, although researchers caution that information collected from an iPhone user may be misleading due to various potential flaws. For starters, the report claims that iPhone users are more likely to have a graduate or doctoral degree than Android users, and the demographic differences can allegedly skew the results.
"Just collecting lots of information about people -- who may or may not have a particular disease, and may or may not represent the typical patient -- could just add noise and distraction," said Lisa Schwartz, professor at the Dartmouth Institute for Health Policy and Clinical Practice, in an e-mail. "Bias times a million is still bias."
Meanwhile, an iPhone user simply hitting a button by accident or giving his smartphone to someone else can also result in misleading data. Nevertheless, there are issues with data collected through traditional clinical trials as well, and ResearchKit allowing people to engage in medical research more easily is still valuable and, as Apple claims, could transform the way that medicine is approached forever.