Apple Online Store Goes Down Ahead of 'Spring Forward' Media Event
The online Apple Store has been taken offline this morning less than five hours prior to Apple's highly-anticipated "Spring Forward" media event in San Francisco, where the company is expected to unveil further details about the Apple Watch alongside other potential announcements. If history repeats itself, the storefront should remain down until shortly after the conclusion of Apple's keynote.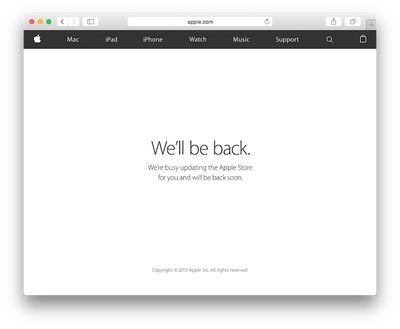 Apple's media event starts at 10 AM Pacific with a live video stream available on Mac, iPhone, iPad and Apple TV. MacRumors will also have full coverage of the event, with a live blog on our front page and updates going out on our @MacRumorsLive Twitter account. We'll also have specific coverage of today's announcements in separate news stories, and our forums are a great place for readers to discuss the announcements before, during and after the event.