New Report Provides Look Into Apple's Secret Lab for Apple Watch Developers
Three weeks ago, it was reported that Apple was inviting developers to the company's Cupertino headquarters to receive help finalizing Apple Watch apps. A new report from Bloomberg Business provides a look into the secret lab where Apple is helping developers, offering a look at Apple's strategy for Apple Watch apps as well as the security around the project.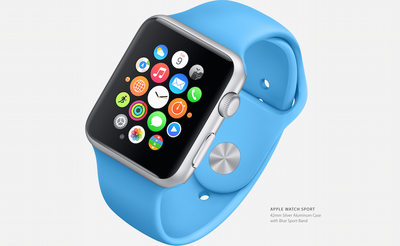 Developers from Facebook, BMW, Starwood Hotels and others have been making multiple trips to Cupertino, with each visit requiring confidentiality.

Apple, which will share more details about the gadget at a March 9 event, uses extreme measures to keep the work secret. Internet access is blocked inside the rooms, and no outside materials can be brought in to the labs with the test watches, a person who attended said. The companies, sometimes sharing a room, must bring in source code for their apps on a computer hard drive that can't leave Apple's headquarters. To prevent information from leaking out, Apple is storing the code and sending it to the companies closer to the watch's introduction date, the person said.
The unreleased Apple Watch is also available for the developers to test out their apps, allowing them to check for glitches and optimize user experience for the Digital Crown and Force Touch, two of the watch's unique interface options.
One of the challenges for both Apple and its developers has been to balance the apps so that they are useful but not annoying. Apple has recommended that developers be "judicious" about interrupting users with alerts that would constantly buzz or drain the battery. Instead, they suggest that apps should be used for no longer than 10 seconds at a time.
Another challenge for developers has been working on an unreleased product, as developers have noticed problems that still need to be worked through. One developer tells Bloomberg that the Bluetooth connection between the iPhone and Apple Watch caused lag with some applications. Additionally, some developers like Starwood have had to use computer simulations and cardboard cutouts to explain to the designers who weren't invited to Cupertino how its app would work.
Apple is expected to show off the Apple Watch apps developers have been working on, as well as more information about the new device, at its "Spring Forward" event on Monday, March 9 at 10:00 a.m. Pacific Daylight Time. Apple plans to provide live coverage for the event on its website and through a channel on Apple TV, and MacRumors will also be covering the event with both a live blog on MacRumors.com and through our MacRumorsLive Twitter account.