Following its unveiling at CES earlier this year, AT&T today announced that its new Modio Case for iPad Mini, which enables Wi-Fi only iPads to connect to 4G, will be available for purchase March 20 for $49.99 with a two-year agreement.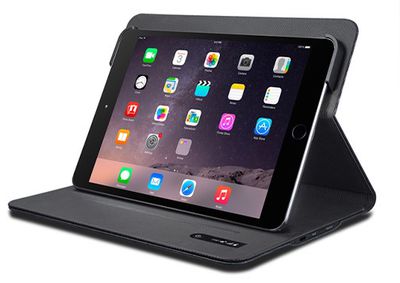 The March 20 release is set only for the iPad Mini, iPad Mini 2, and iPad Mini 3 compatible cases, with a launch for the iPad Air models planned for later in the year. As detailed at its CES reveal event, the Modio smartcase will allow iPad owners with Wi-Fi models to connect to AT&T's 4G LTE network using data available on a user's Mobile Share Value plan. The case connects to the network when prompted, and automatically disconnects when the folio is closed.
Available for $49.99 on a two year contract, AT&T also plans to sell the new case on the AT&T Tablet Installment plan of $10 per month for 20 months. Those wishing to simply buy the Modio outright with no annual commitment can expect to pay $199.99. All Modio users will be required to pay a $10 monthly access charge for using the case on a Mobile Share Value plan.

"The AT&T Modio LTE case is both convenient and a great value for our customers. The case's durability also makes it a natural choice for iPad mini with Wi-Fi users. Connect your iPad mini with Wi-Fi to AT&T's 4G LTE network – the nation's strongest LTE signal – and protect it at the same time." – Jeff Bradley, senior vice president, Device Marketing and Developer Services, AT&T Mobility.
The case also includes a 4,600mAh battery that'll give users "up to 16 hours of continuous use" and a micro SD slot that supports up to 32GB of storage. The case needs to sync up with the AT&T Modio Data app, which monitors data usage and various data plans, to function. After the first set-up, the case will remember a user's iPad and preferences upon subsequent usage.
The Modio LTE Case will be available in AT&T retail stores, AT&T's
official website
, and at "select retailers" across the country on March 20.