CES 2015: AT&T Announces 4G LTE Smartcase With MicroSD Slot for Wi-Fi iPads
AT&T today announced the upcoming availability of its new Modio smartcase that will add 4G LTE connectivity to a Wi-Fi-only iPad or iPad mini. The Modio smartcase will be compatible with the iPad Air 2, iPad Air, iPad mini 3, iPad mini 2 and iPad mini.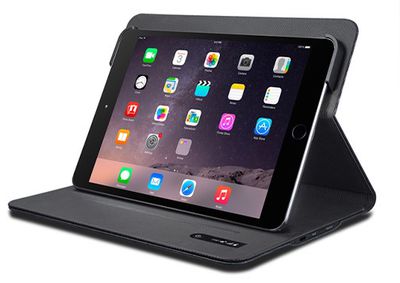 The Modio will allow Wi-Fi iPad owners to connect to AT&T's 4G LTE network using the data available on the customers' Mobile Share plans. Mobile Share allows customers to pay for a monthly data allotment that is shared between smartphones, tablets and other connected devices.
Beyond cellular connectivity, the Modio smartcase also includes its own 4,600 mAh battery to support up to 10 hours of use, along with a microSD card slot that can be used to store up to 32 GB of media and other files. Case owners can install the accompanying AT&T Modio Data application to monitor data usage and manage cellular plan details.
The AT&T Modio smartcase for iPad mini is listed on AT&T's website as coming soon, with a version for larger iPad Air models to follow. Pricing and exact launch dates for the new cases has yet to be announced.