Apple Surpassed Samsung as World's Largest Smartphone Maker in Fourth Quarter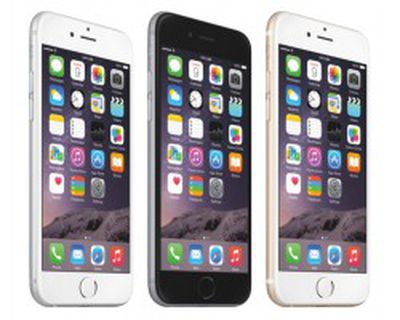 The latest numbers from research firm Gartner reveal that Apple surpassed Samsung in worldwide smartphone sales during the fourth quarter of 2014 to become the world's largest smartphone maker. Samsung lost the top spot to Apple for the first time since 2011.
Apple narrowly edged Samsung as the two rivals had quarterly sales of 74.8 million and 73 million smartphones respectively. Apple's 20.4% market share was also marginally higher than Samsung's 19.9% share during the three-month period ending December.
"With Apple dominating the premium phone market and the Chinese vendors increasingly offering quality hardware at lower prices, it is through a solid ecosystem of apps, content and services unique to Samsung devices that Samsung can secure more loyalty and longer-term differentiation at the high end of the market," said Roberta Cozza, research director at Gartner.
Strategy Analytics reported in January that Apple and Samsung were tied as the top smartphone makers during the fourth quarter, although its findings were based on overall shipments and not actual sales. Samsung smartphone sales figures always have a margin for error, however, as the South Korean tech giant does not officially disclose smartphone sales and leaves research firms to estimate.


Samsung remained the top worldwide smartphone vendor in 2014 overall, with an estimated 307.6 million smartphone sales to capture 24.7% market share. Apple was runner-up with 191.4 million iPhones sold during the year, representing 15.4% market share. Lenovo, which acquired the smartphone making division of Motorola, finished third with 81.4 million smartphone sales in 2014 for 6.5% market share.


Samsung recently announced its latest flagship smartphones, the Galaxy S6 and Galaxy S6 Edge, each compatible with a new mobile payments service called Samsung Pay. The smartphones will be released April 10 in several countries. In the United States, the handsets will be available on AT&T, Verizon, Sprint and T-Mobile and also on sale through Amazon, Best Buy, Costco, Target, Walmart and Sam's Club.