Tim Cook Talks Apple Watch Water Resistance and European Apple Pay Expansion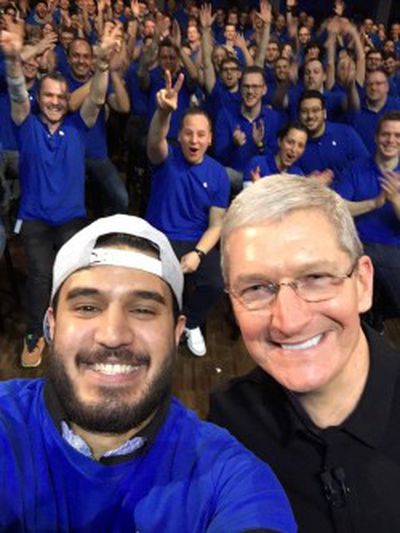 While on a trip in Germany to visit with German Chancellor Angela Merkel and meet with a few German-based Apple staff members, Apple CEO Tim Cook told Apple Store employees in Berlin that he wears his Apple Watch constantly, "even in the shower", according to iGen.fr [Google Translate].
The new piece of information from the Apple CEO could mean the company's been working on adding more water resistant features to the upcoming wearable, since at its early-September reveal event the company warned off wearing the device in the shower.
Cook went on to say that he charges his Apple Watch every night, which seems to fall in line with what he's said previously on the topic. But, as Apple Insider points out, some of his comments regarding the new information on the Apple Watch could have been lost in translation.
He also told a few of the Apple Store workers, specifically in fielding a question asked by a visually impaired employee, that apps and accessibility features focused on aiding the disabled would be coming to the watch over time. Cook even commented on a few recent bits of bad press the company has faced in regards to the working conditions at its Chinese facilities.

He said that Chinese workers want to work hard and their employers want them to always work more. Apple is trying to ensure that there is no abuse, and the number hours worked per week decreases with time. He said that wages in China are increasing much faster than anywhere in the world. While recalling that the cost of living is much lower there, compared for example to Germany or the United States.
Concerning the overseas launch of Apple Pay, which has been gaining steam in rumors lately, Cook stated that a European launch for the contactless payment service will come "before the end of the year." Cook's trip continues this week (via The Marker) [Google Translate], with the CEO moving on to Israel to visit the newly-built Apple offices in Herzliya and a planned meeting with former President Shimon Peres.