Tim Cook on Apple Watch: 'You're Going to Wind Up Charging It Daily'
Apple CEO Tim Cook took the stage today at the WSJ.D conference in Laguna Beach, California, where he commented on an array of topics including the Apple Watch, Apple Pay, Apple TV, and more.
Unsurprisingly, Cook said that Apple is "excited" about the upcoming launch of the Apple Watch, and he's impressed that Jony Ive and his team had the foresight to understand that "something you wear has to be personal" and that it can't be "geeky."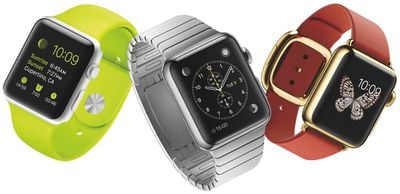 Cook divulged some new information on the Apple Watch's battery, which has previously gone unmentioned by Apple. Cook says that people will use it so much that it will need to be charged on a daily basis. "You're going to wind up charging it daily," he said, declining to provide a specific battery life for the device as Apple is still examining how people use it.
Battery life on the Apple Watch has been in question since long before the device launched, with early reports suggesting Apple was having trouble getting the device to last longer than a day. While the company was originally aiming to have the Apple Watch last three to four days, it appears that battery life may be closer to the iPhone's battery life, requiring a charge on a nightly basis. Apple employees have also suggested that the device may only last for a full day of usage, which is why Apple designed an easy charging system.
The Apple Watch connects to a magnetic charger that's much like the MagSafe chargers supplied with the Mac, snapping easily to the back of the device. High-end versions of the Apple Watch even ship in a luxury box that doubles as a charging stand. Apple likely has not commented officially on the Apple Watch battery as it is continuing to finalize the software for the device ahead of its early 2015 launch.
An official rough transcript of Cook's comments during the interview, which also covered the Mac, the iPhone, Apple's taxes in Ireland, plans for a low cost iPhone, and Cook's thoughts on Carl Icahn, can be found over at
The Wall Street Journal,
and a second comprehensive live blog from
Fast Company
's Harry McCracken also has details on exactly what Cook shared during the conversation.