Candy Crush Saga may have reached peak popularity, with quarterly spending declining over the past eighteen months, but that hasn't stopped the sweet-swapping puzzle game from raking in the cash. Candy Crush Saga players still spent over $1.3 billion on the game in 2014 alone, according to The Guardian, with dollars being used towards in-app purchases such as extra lives, extra moves, color bombs, lollipop hammers and gold bars.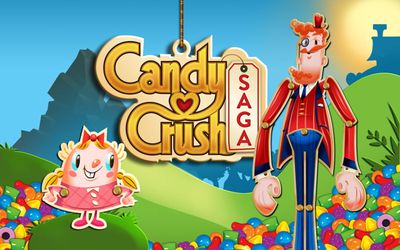 Candy Crush Saga continues to be the third-highest grossing app in the United States, closely trailed by Candy Crush Soda Saga at sixth overall. The game has gained a cult-like following since launching on the App Store in June 2013, following in the footsteps of other smash-hit games such as Infinity Blade and Angry Birds. The game was most lucrative when it pulled in $551 million during the third quarter of 2013.
The latest financial numbers from King, the developer of the game, reveal that Candy Crush Saga represented 45% of spending on the company's games during the final quarter of 2014, the first quarter in a long time that the iconic title did not make up the majority of its revenue. King has been working to diversify its gaming portfolio so that it relies less on Candy Crush Saga to remain profitable. The company had 356 million monthly unique users playing its games last quarter.
Earlier this week, Apple introduced a new category on the App Store to promote games without in-app purchases. The "Pay Once & Play" section offers a range of titles that are organized into the following categories: Recent Releases, Blockbuster Games, and App Store Originals. Some of the featured titles include Thomas Was Alone, Minecraft - Pocket Edition, Hero Emblems, Threes, Blek, and Goblin Sword.