Apple CEO Tim Cook Speaking Live at 2015 Goldman Sachs Technology Conference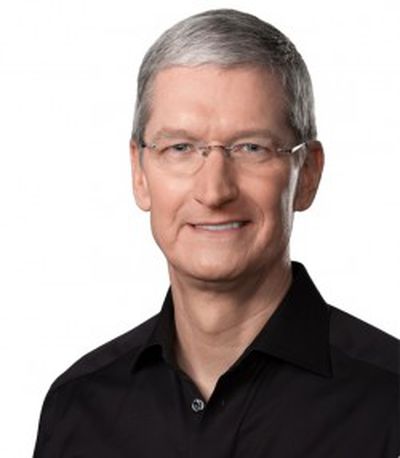 Apple CEO Tim Cook is speaking at the Goldman Sachs Technology and Internet Conference today, with the session kicking off at 3:30 PM Eastern / 12:30 PM Pacific. Cook's presentation is being broadcast on Apple's website and MacRumors will be updating this post to summarize Cook's comments.
Cook has spoken at the annual conference a number of times over the years, although he did not appear in 2014. While Cook has not made any major announcements at the venue in the past, he has at times offered an interesting perspective into Apple's business, so it generally worth paying attention to his comments.
Cook will almost certainly be asked about Apple's blockbuster iPhone sales and earnings in the last quarter, the company's strategy for managing cash and capital return to investors, company philosophy and more, and he is generally fairly open and thoughtful in sharing his ideas on many topics. The company's future product plans are not, however, something he has shown willing to discuss, maintaining a long tradition of secrecy for the company.
Welcome everyone. And welcome to you too, Tim. You joined Apple in 1998, became CEO in 2011. Going over financial and sales stats since Cook became CEO. Not a bad start, right?
Thanks everyone, and thanks Goldman for having us here. Cook giving "safe harbor" statement about forward-looking comments to satisfy regulators.
Stock is up over 48% since start of 2014. Apple undeterred by Law of Large Numbers. What are your biggest accomplishments over the last year?
We don't believe in the Law of Large Numbers. We're not focused on the numbers, we're focused on the products that produce the numbers. We're a product company. We feel great about last year. iOS 8, Yosemite, biggest advancement ever for iPhone, hit the ball out of the park on that iPhone ramp, Touch ID on iPad, Mac kept humming despite industry being "really awful". So on the product front, lots of things to feel great about.
Also things setting up for the long-term. Developed Swift, our own language. Makes our ecosystem even stronger...powerful and fast. HealthKit is going to be profound...take info from all kinds of apps and if you want can share it with a physician. HomeKit enables you to essentially control your home with Siri...lights, doors, etc. Also CarPlay. So we've extended iOS into your car, your home, and your health.
We've also furthered our global footprint, China in particular. We opened 27 new retail stores, larger footprint for online stores, etc. Partnered with China Mobile. IBM partnership for enterprise and we'll see the fruits of that as apps roll out. We're here to make great products and enrich people's lives. So our greatest contributions will always be our products. But also things like ConnectED to bring technology to underserved schools. Global Fund partnership to focus on AIDS, over $100 million commitment there.
We at Apple know climate change is real. The time for talk is past and the time for action is now. All of our data centers are now on renewable energy. Just today, we're announcing our most ambitious project ever. We're partnering with First Solar to build a new 1300 acre solar farm in Monterey, California. Enough renewable energy for all of our new Apple Campus 2, every other office we have in California, all 52 Apple retail stores in California, and our data center in Newark, California. $850 million investment. It's the right thing to do both socially and financially.
Let's talk Apple Watch. What makes it different from other smart watches we've seen?
Good question. If we look back at MP3, we weren't the first there. There were lots of other players out there, but they had poor user interfaces and the devices weren't memorable. Didn't really move the dial. Similar story with tablets before the iPad. So I see the smart watch category very much like that. There are several things called smart watches that are shipping. But none have changed the way people live their lives. Just like iPad has changed the way you work and hopefully the way you live, and iPhone has done that, we hope Apple Watch will do the same. One of the biggest surprises for Apple Watch will be the breadth of what it will do.
Variety and customizability are amazing. There are ways to interact you never thought of. I use Siri all the time. Most men carry phones in their front pocket, so you can imagine how distracting it is in a meeting to fish out your phone when you need it. But with the watch it's much more subtle. Super excited about third-party apps. Just like with App Store, everybody will have their own special apps. I use Apple Watch constantly in the gym to track my exercise. If I sit for too long, it will actually tap me on the wrist to remind me to get up and remove. Because a lot of doctors think sitting is the new cancer. So ten minutes before the hour, it will remind you to move. We have a lot of people using the Apple Watch at Apple, and ten minutes before the hour, suddenly they all get up and move. It took a little to get used to, but it's great.
Historically, Apple has been viewed as a hardware company. But now more with software and services.
I don't believe we've been a hardware company for as long as I've been here. Our customers would feel the same. When they buy a Mac, they buy an experience with hardware, software, and services. Same with iPhone and iPad. Now financially we report services separately, and this adds up to like $18 billion for the last year. But when you think about it when we sell an iPhone, you get the experience, but we're also selling future updates to keep that experience fresh. We don't apportion that out, so services would actually be even higher. But because we own the whole widget and control the entire experience, everything is important. Doing them all and doing them all at a very high integrated level.
How are consumers responding to Apple Pay?
It's going much faster than I anticipated. The reason we thought it would be slower is that going into holidays, retailers don't want to change anything with point of sale technology. But by December, two out of three contactless payment dollars on Visa, MasterCard, and AMEX were Apple Pay. We had the bank piece at a great level. We have 2000 banks and credit unions lined up, with more coming. So the retailers are the emphasis. We did a walk around the hotel...you can buy your coffee or tea, get your lunch at McDonald's, get your cupcakes at a cupcake shop, can get shoes at Foot Locker, can go to Bloomingdale's. In fact, there's a vending machine in the lobby...there's 200,000 of these around the country. Roll-out is going faster than we thought.
Some retailers are even going further. Panera Bread allows you to order in advance and then pay with Apple Pay. So they're taking it further. JetBlue just announced this morning they're rolling out starting the middle of this month, going systemwide over the next three months. All of these things are great, and we see them happening faster and faster and faster. Going back to your earlier question, this is only possible because we designed the hardware, software, and service.
Following up on the payment space, most of your competitors are collecting personal data. You're not.
We believe customers have a right to privacy, and the vast majority of customers don't want people knowing everything about them. When you make a purchase, we make a little bit of money. It's very simple, very straightforward. You are not our product, that's our product. There's no need for us to know what you're buying, where you're buying, I don't want to know any of that. We think customers will rebel on that. Similar with HealthKit...you want control over that. So we think over the arc of time, consumers will go with people they trust with their data. People are unknowingly sharing things with others, and info can be pieced together. Over time people will realize this more and demand privacy.
So with Apple Pay we needed something easier than pulling out a credit card, we knew it needed to be secure as well. We never give the merchant your credit card number. We don't even have it. We're making up a proxy for each transaction. Think about it...how secure is a card with your number on the front, and then a security code on the back! So Apple Pay had to be private. We're facilitating a transaction between you, the merchant, and the bank.
Panera Bread told us 80% of mobile transactions in stores are now Apple Pay. I couldn't be happier about how things are going. Never would have predicted we'd be where we are today.
Latest earnings call said you were drawing a lot of iPhone buyers from Android. Success avoiding claims you need to offer a low cost alternative.
We always want to make the best. We want to give consumers a good value. If we can develop something really great we can sell to customers for less, we'll do it. But we won't do something second-rate. We had lots of people telling us we needed to do something different in China to compete. That's a bunch of bull. People everywhere want quality. Not everyone can afford one, but there's a big market there.
Are you worried about Android/Xiaomi as they try to move up?
We've always fought against strong competitors. It was Microsoft in computers. In phones, it was Nokia and BlackBerry. With iPad, it was more why are you doing this product? We've always had stiff competition. So this isn't something we lose sleep over. If we make great products, it will take care of itself.
Key to success in China?
Several things. One is we put a lot of investment there...people, flagship stores. We're now at 19 stores there, going to be at 40 next year. Brought on 40,000 points of sale through partners. Partnered with top telecom companies, Baidu, Youku, etc. Maybe more than anything, we've put our personal energy into it to understand and respect that market. Over time it begins to work. Have grown from $1 billion to $38 billion over last five years. But we're still not too far from the surface. That country has enormous opportunity. Amazing number of people moving into the middle class. Opened 4 new stores in last few weeks, stores in cities with give or take 9 million people. These are the size of New York City. Places most Americans have never heard of, but they're huge. The scale is, after traveling to and studying China for 30 years, it's still amazing to me.
But there other countries we haven't studied as well and invested as much. India is one of these. We're growing rapidly there, but starting from a very small base. In a few years, you can imagine a similar story playing out there.
Generating tons of cash. What's next?
First of all, we invest in R&D. That means internal as well as acquisitions. We're continuing to acquire where we find skills/technology that are great. We also invest in go-to-market with our stores, supply chain, etc. All of those are our first priority. We realized a few years ago we didn't need as much cash as we were generating, so we started returning money to shareholders. Reevaluate every year, will announce on our April earnings call any changes. Large $130 billion plan, now $103 billion through it. So we'll see where we're at in April. By and large, cash we don't need, with some level of buffer, we want to give back. So we're not hoarders.
How important is IBM partnership? What makes it interesting for two titans?
IBM has very deep knowledge of a number of verticals, we don't have that. IBM has field expertise, we don't have that. Apple has devices people want, programming languages easy to write for. IBM doesn't have that. We want to change the way people work. So when we thought how do we do this, we realized we didn't know enough and didn't have all of these people on the street and didn't have all of these engineers to write these unique apps. But we knew we needed them at the enterprise level. Presentation, word processors, those are general. But when you start talking about tools for the pilot, the nurse, the banker, you need unique apps.
So we knew we needed to partner with someone. We looked around, and it became clear IBM would be an outstanding partner. The relationship there is good, the teams work well together, and the teams are very complementary. Enterprise has not moved nearly as far as consumer. Kind of like schools...analog experience for digital kids. Enterprise is like this...you live one way at home and then turn back the clock when you go to work. It doesn't have to be like that.
What's the future of the Mac?
It has a bright future. Despite industry troubles, we've gained share for ten years straight. We're up 5x in revenue in an industry people are saying is left for dead. But we're only at 7%, so we're not at a ceiling. We're innovating and investing, and we think there's a bright future.
We've done things like Continuity...try very hard to stitch things together seamlessly so that even though one is OS X and one is iOS, they work together as one. Customers have really responded positively to this. Only Apple can do this. We're the only company that has both mainstream desktop and mainstream mobile operating systems.
Coming up on four year anniversary as CEO...what are you looking at for next four years or however long you plan to stay?
People, strategy, and execution. If you can get those right, everything else falls into place. Pointing to hires with Luca Maestri, Angela Ahrendts, Jimmy Iovine, etc. And of course all of the other people. We talk a lot about strategy, things we're going to do and not do. And execution. With so many transactions per day, execution is critical.
I've got this device in front of me. News alerts telling me Apple is first company to close with $700 billion market cap. So you'll remember exactly where you were when you hit that milestone.
(Session is concluded.)