OS X 10.10.3 Beta Adds Support for Google 2-Step Verification on Internet Accounts
In addition to a new Photos app and emoji improvements, yesterday's developer release of the first OS X 10.10.3 beta also includes new direct support for Google's 2-Step Verification when setting up Google services in the Internet Accounts section of System Preferences.
2-Step Verification is an optional security setting that requires users to enter not only their account password but also a unique code sent by Google via phone app, text message, or voice call to a previously registered device or phone number, greatly enhancing account security.
Not all devices and apps support Google's 2-Step Verification, however, and as a backup Google also allows users to generate app-specific passwords to register a unique password for that device or app. The app-specific password can be revoked at any time by logging into the user's Google account for another time, making it easy to disable access on a device that has been lost or stolen.
On OS X 10.10.2 and earlier, users setting up their machines to access Google accounts with 2-Step Verification enabled have had to use this app-specific password option. Users trying to log in with their standard Google account passwords are met with error messages informing them they need to use this option.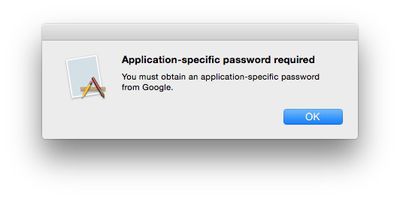 OS X 10.10.2 requiring an app-specific password for a Google account protected with 2-Step Verification
But as
noticed
by developer Jonathan Wight, the new OS X 10.10.3 beta now
fully supports
2-Step Verification, allowing users to log in with their standard passwords and unique verification codes.

OS X 10.10.3 requesting verification code after logging in with standard password
The change makes logging in with 2-Step protected accounts much simpler and increases security by making sure the user attempting to log in has a secondary trusted device to provide the verification code.
(Thanks, Sean!)