OS X 10.10.3 Puts More Focus on Emoji, Lays Groundwork for Skin Tone Modifiers
While the featured addition in yesterday's OS X 10.10.3 developer seed was the new Photos app, Apple is addressing other issues with the forthcoming update, and one of these focus areas is emoji, which is seeing several changes and improvements.
One immediately evident change is the menu option used to bring up the character palette where emoji and other symbols can be browsed and selected. The Character palette a is systemwide option generally accessed through the "Edit" menu in most Mac apps. On OS X 10.10.2 and earlier, the menu item is called "Special Characters," while on OS X 10.10.3, it is labeled "Emoji & Symbols". The change offers a clearer description of what can be accessed through the menu item while specifically giving a strong visibility boost to emoji.
Another significant change for emoji in OS X 10.10.3 is the apparent laying of groundwork to support skin tone modifiers proposed for the Unicode 8.0 standard. Apple noted almost a year ago that it was working with the Unicode Consortium to bring more diversity to emoji, and the proposed skin tone modifiers are a significant step in that direction. OS X 10.10.3 also appears to include a number of placeholders for new emoji in the character palette, but no images or descriptions have yet been added for these entries.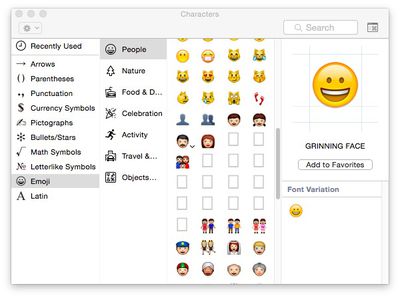 Character palette showing placeholders for new emoji and an arrow on the "Man" emoji to provide access to skin tone options
The skin tone modifier proposal would apply to certain skin-colored emoji, allowing users to select from a range of skin tones to best represent the message they wish to send via emoji. As can be seen in OS X 10.10.3, many of these skin-colored emoji now display an arrow that when clicked brings up a menu of options.

Apparent incomplete implementation of skin tone modifier options for the "Man" emoji
While the menu is currently non-functional, it does show the selected emoji followed by five instances of the emoji paired with a number one inside a black box. These are presumably incomplete implementations of skin tone modifiers, waiting for the Unicode Consortium to finalize its standards for Unicode 8.0. Just yesterday, the Unicode Technical Committee officially moved the technical report covering skin tone modifiers and other emoji changes for Unicode 8.0 to
draft status
, and Unicode 8.0 itself has been
approved for beta release
.
In one other change for emoji in OS X 10.10.3, the pop-up emoji picker available in many apps has been transitioned from a paginated layout to a single larger vertical-scrolling page. Under OS X 10.10.2 and earlier, the various emoji categories are contained on separate pages within the picker, with users needing to click on a toolbar along the bottom to change pages.

Emoji picker in OS X 10.10.2 (left) with paginated categories vs. OS X 10.10.3 (right) with single scrollable page and category jumps
In OS X 10.10.3, all emoji are displayed on a single page, and while they are still organized by category and users can still click toolbar buttons to quickly jump between categories, users can now also simply scroll the entire list if they wish.
All of these changes come as emoji have exploded in popularity, spreading beyond their origin in Japan to be embraced worldwide as a quick, fun, and easy way to share a variety of emotions and thoughts, most commonly within messaging apps. As a result, Apple has been working to increase support for emoji across iOS and OS X, and this first OS X 10.10.3 developer build is a clear sign of that continued interest.