Apple May Have Considered Purchasing Tesla, Researching Audio to Predict Heart Attacks
Apple's interest in vehicle and medical integration for its products is well-known, but a new report from the San Francisco Chronicle claims some new details on both fronts, including word that Apple may have explored a potential purchase of electric car manufacturer Tesla last year.
The specific claim that Apple was considering a purchase of Tesla seems to be primarily speculation, but the report notes that Apple's head of acquisitions Adrian Perica met with Tesla CEO Elon Musk early last year. According to the report's source, Apple CEO Tim Cook was probably also involved in the meeting.
In October 2013, German investment banking analyst Adnaan Ahmad created a media stir when he wrote an "open letter" to Apple CEO Tim Cook and board director Al Gore, urging the company to acquire Tesla. [...]

Six months before Ahmad's letter, Musk met with Perica and probably Cook at Apple headquarters, said the source, who spoke on the condition of anonymity to protect business relationships. While a megadeal has yet to emerge (for all of its cash, Apple still plays hardball on valuation), such a high-level meeting between the two Silicon Valley giants involving their top dealmakers suggests Apple was very much interested in buying the electric car pioneer.
One analyst suggests that discussion of a deal to integrate iOS devices with Tesla cars may have been a much more likely topic for the meeting, but it is unclear why such a discussion would directly involve Musk and Apple's acquisitions chief.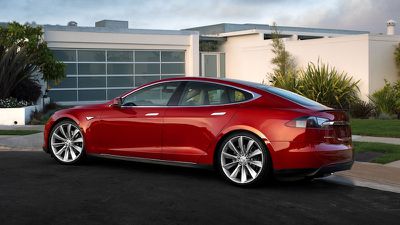 On a separate note, the report claims that Apple's interest in medical functions, rumored to be linked to its iWatch initiative, includes an innovative effort to predict heart attacks using audio sensors. That effort is reportedly led by Tomlinson Holman, the audio pioneer behind the THX sound standard who joined Apple in 2011.
Though Apple has never confirmed it, the company hired Holman in 2011 to "provide audio direction," according to his LinkedIn profile. At the time, observers assumed Holman would focus his efforts on boosting the audio quality of MacBooks and iPhones.

But under Holman, Apple is exploring ways to measure noise "turbulence" as it applies to blood flow. The company wants to develop software and sensors that can predict heart attacks by identifying the sound blood makes as it tries to move through an artery clogged with plaque, the source said.
The report also points to Apple patents covering heart-related biometrics such as the ability to authenticate a device based on a user's unique heart rhythm.
Apple's iWatch has been rumored to include an array of sensors for monitoring a wide variety of health-related statistics, and reports have indicated that the device could arrive later this year.