First Photos of Michael Fassbender as Steve Jobs Surface
The Steve Jobs biopic based on Walter Isaacson's best-selling biography began filming in January, and the first images of Michael Fassbender and Seth Rogen as Steve Jobs and Steve Wozniak have surfaced (via The Daily Mail). The two actors were filming scenes at the Flint Center in Cupertino last week, and will also be filming at Steve Jobs' original childhood home.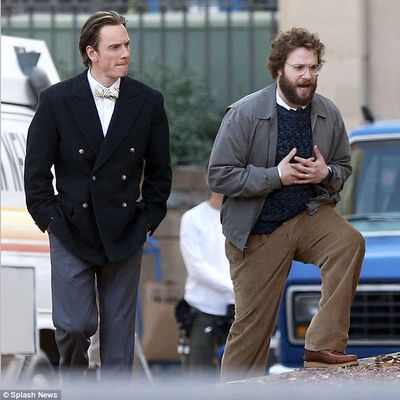 In the images, Fassbender wears a dress shirt, jacket, and bowtie, while Seth Rogen is dressed somewhat more casually in a tie and sweater with a full beard. Fassbender has the long ear-length hair style that Steve Jobs had in the 1980s.
Michael Fassbender, who has most recently starred as Magneto in the newest X-Men movies, was somewhat of a controversial choice in the leading role due to his limited resemblance to Steve Jobs and the fact that he's not a household name like Christian Bale or Leonardo DiCaprio, both of whom were previously attached to the film before turning down the role of Jobs.


In leaked emails from Sony, Aaron Sorkin and other executives were initially against Fassbender because "the world isn't going to care," but director Danny Boyle was fully behind Fassbender and Sorkin came to accept him, saying "He's a great actor whose time has come."
Filming on the biopic will reportedly take place at a limited number of locations including the garage of Steve Jobs' childhood home, two auditoriums, and a restaurant. The movie will consist of three continuous scenes covering three product launches: the debut of the original Macintosh, the unveiling of the NeXT computer, and the introduction of the iMac.
Along with Fassbender and Rogen as Jobs and Wozniak, the film also stars Kate Winslet as early employee Joanna Hoffman, Katherine Waterson as Steve Jobs' girlfriend Chrisann Brennan, Perla Haney-Jardine as Jobs' daughter Lisa, and Jeff Daniels as former Apple CEO John Sculley.