Apple Aiming for 19 Hours of Apple Watch Battery Life With 'Mixed Usage'
One of the biggest mysteries about the upcoming Apple Watch is its battery life. Previous rumors have hinted that it will need to be charged once a day, and Apple CEO Tim Cook himself said that users will want to charge it on a daily basis, but concrete battery life information has yet to be revealed.
New details on the Apple Watch's possible battery life have now surfaced from inside sources that spoke to 9to5Mac, revealing information on the battery life Apple was aiming for and what it may actually be able to achieve.
As of 2014, Apple was reportedly aiming for 2.5 to 4 hours of active application use with 19 hours of active/passive use, plus 3 days of pure standby time and four days if the watch was sleeping. That's somewhat in line with early rumors, which suggested Apple was targeting a three to five day battery life for the device. Though Apple was aiming for three to four days of standby time, it may only reach two to three days. Apple is hoping the Apple Watch will last for 19 hours of mixed usage, but it "may not hit that number in the first generation version."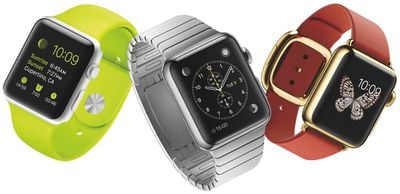 The Apple Watch is equipped with a tiny but powerful S1 chip, and its performance is similar to that of the A5 processor from the iPhone 4s and the iPad 2. It also has a 60-FPS Retina-class display, which, along with the S1 chip, results in a significant amount of power usage.
Apple has also been stress-testing the Apple Watch's battery life with pre-bundled and third-party applications. Our sources say that Apple is targeting 2.5 hours of "heavy" application use, such as processor-intensive gameplay, or 3.5 hours of standard app use. Interestingly, Apple expects to see better battery life when using the Watch's fitness tracking software, which is targeted for nearly 4 hours of straight exercise tracking on a single charge.

As Apple is positioning the Apple Watch as a timepiece, the company has conducted numerous tests to determine how long it can run purely in time-keeping modes. We're told that the Watch should be able to display its clock face for approximately three hours, including watch ticking animations, if nothing else is done with the device.
These usage numbers make it sound like the Apple Watch will need to be charged multiple times a day, but it's unlikely that Apple Watch users will use apps and games continuously for hours, allowing the Apple Watch to last for approximately a day before needing to be charged. When not in active use, the Apple Watch goes into a battery-preserving sleep mode.
Apple originally hoped to launch the Apple Watch in late 2014, but delays with software optimization ultimately caused the company to push back the release of the device until 2015, giving it time to eke out as much battery life as possible. Apple is also said to be perfecting the Apple Watch's MagSafe charger, improving its recharging time.
Current rumors suggest the Apple Watch could launch in March of 2015, at the tail end of "early 2015." While complete pricing remains unknown, the entry-level model will sell for $349.