Apple Watch Battery Life Currently 'About a Day', but May Improve for 2015 Launch
Apple on Tuesday unveiled its new Apple Watch, providing a number of details on the highly anticipated device but declining to address one critical issue: battery life. According to information obtained by Re/code, Apple's new Watch will require daily charging, keeping the device in line with similar smart watches from Samsung and Motorola.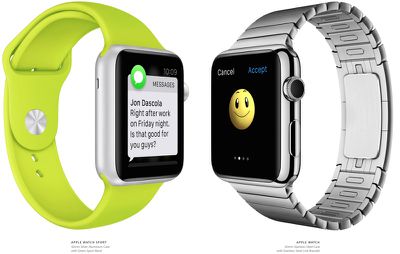 "There's a lot of new technology packed into Apple Watch and we think people will love using it throughout the day," Kerris said. "We anticipate that people will charge nightly which is why we designed an innovative charging solution that combines our MagSafe technology and inductive charging."
Sources tell Re/code that Apple is working to improve battery life before the product's 2015 debut, but the company still expects people will charge the device once a day.
The Apple Watch will go on sale in early 2015 with a starting price of $349. The smart watch will be available in two sizes with a variety of colors, materials and watch bands for personal customization.