Photos of 12-Inch MacBook Air Display Show Black Glass Cover, Polished Apple Logo
Just days after a report claiming Apple supplier Quanta Computer has begun ramping up production of the upcoming 12-inch MacBook Air, Chinese site iFanr shares some photos [Google Translate] of what it says is the display assembly for the machine (via SlashGear).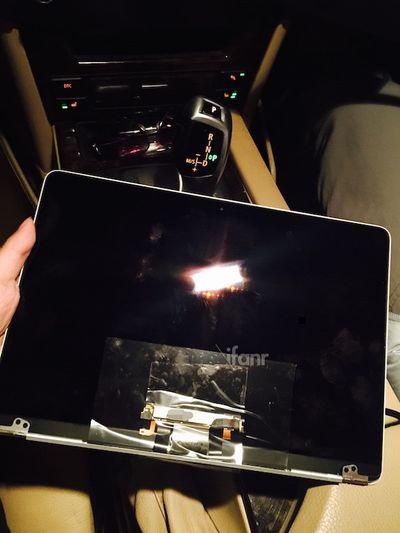 The photos depict the claimed display and metal shell from the upcoming 12-inch machine alongside both a 13-inch MacBook Pro and a 9.7-inch iPad, with its sizing appearing to measure up to previously reported dimensions. The display does, however, have two noticeable differences from current MacBook Air. First, instead of a backlit Apple logo on the back of the display assembly as is typically seen on Apple's notebooks, there is a polished metal logo more like those seen on iPads, with iFanr speculating the change could be tied to the device's thinness.


Additionally, the display lacks the grey bezels current MacBook Air models have, instead opting for an apparently all-glass edge-to-edge cover for the display as seen on Retina MacBook Pro models. Paired with black bezels underneath, it is difficult to see where the display ends and the bezels begin unless the screen is turned on. Earlier renderings of the 12-inch MacBook Air based on information from within Apple had shown gray bezels similar to those seen on the current MacBook Air.

Claimed 12-inch MacBook Air display assembly with 13" MacBook Pro
The 12-inch MacBook Air will reportedly have roughly the same footprint as the 11-inch MacBook Air, relying on smaller bezels to compensate for a larger display size. The comparison photos shown by
iFanr
demonstrate the significantly smaller footprint for the 12-inch machine compared to a 13-inch MacBook Pro

Claimed 12-inch MacBook Air display assembly with 9.7-inch iPad
The
next-generation MacBook Air
is expected to feature a high-resolution display (perhaps classified as Retina) and new
Broadwell Core M
processors that will enable a thin, fanless design. Other reports
have claimed
the 12-inch MacBook Air will do away with nearly all the ports typically found on Apple's line of MacBooks, offering only a headphone jack, a pair of microphones, and a
USB Type-C
port that may handle both charging and external connectivity.