Apple Ramping Up Production of 12-Inch MacBook Air for Q1 2015 Delivery
Apple supplier Quanta Computer has begun ramping up production of the upcoming 12-inch MacBook Air ahead of a release during the first quarter of 2015, reports Digitimes.
The company has stepped up its efforts to recruit more workers for its production efforts on the notebook, and is looking to bring in a total of 30,000 workers during the quarter to also help with the Apple Watch. Sources close to Quanta further note that the 12-inch MacBook Air will replace the existing 11-inch MacBook Air, with Apple choosing to keep the 13-inch MacBook Air.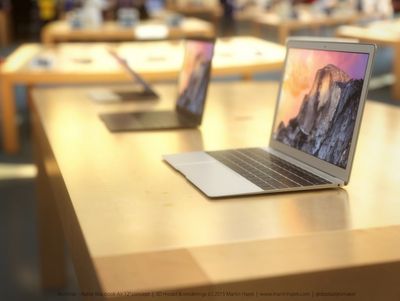 The next-generation MacBook Air is expected to feature a high-resolution Retina display and a new Broadwell Core M processor that will enable a thin, fanless design. Other reports have also claimed that the 12-inch MacBook Air will do away with nearly all of the ports found on Apple's current line of MacBook Airs and contain a headphone jack, a pair of microphones, and a USB Type-C port that may handle both connectivity and charging.