Apple's Ultra-Slim 12-Inch Notebook Rumored to Gain USB Type C and Fanless Internals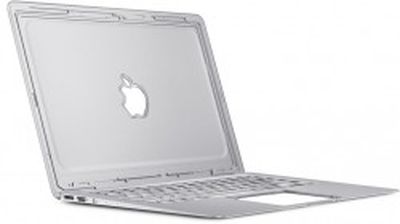 Following a previous report claiming Apple's much-rumored 12" ultra-slim notebook is planned to arrive in silver, gold, and space gray color options, Jack March has issued a follow-up report sharing additional details on the machine.
According to March's report, which MacRumors believes to be based on legitimate information, the new notebook has a much thinner design that appears to sacrifice many of the usual ports seen on Apple's current notebooks and may adopt the new reversible USB Type C connector that has seen its specifications recently finalized.
A source familiar with Apple's plans describes the 12 inch Macbook Air as having a noticeably thinner design, the source wouldn't give dimensions however noted that the thinner design may sacrifice the standard USB port and Apple will move to the reversible USB Type C with this product, It is assumed Apple will include an adapter in the box for backwards compatibility.
Interestingly, the report raises some questions about charging on the notebook, indicating that the usual MagSafe port has been removed in favor of a new, unspecified charging method.
In line with previous rumors, the machine is reportedly fanless, suggesting it will adopt an ultra low-power processor such as the Broadwell-Y Core M processors recently announced by Intel. The body of the new notebook is also said to be narrower than the current MacBook Air, with narrower display bezels and a keyboard stretching right to the edges of the machine. Finally, the speakers are said to be located above the keyboard with visible grilles, unlike the MacBook Air and 13-inch MacBook Pro that have their speakers located underneath the keyboard.
Apple's 12-inch notebook has been rumored for some time, with the launch perhaps being pushed back due to multiple delays for Intel's Broadwell chips. March's previous report indicated Apple appears to be currently looking toward a mid-2015 launch.
(Image: Chassis of current MacBook Air)