Rogue Amoeba today announced the launch of Audio Hijack 3 for Mac, which allows users to record audio from any source, including Skype, Safari, or hardware inputs like microphones. As described by the company, "if it can be heard on Mac OS X, Audio Hijack can record it."
Audio Hijack 3 follows in the footsteps of Rogue Amoeba's Audio Hijack, which was first released in 2002, and Audio Hijack Pro, a second version that added additional features and support for various audio plugins. Version 3 of the software introduces a new look and dozens of new functions to make this the most full-featured version of Audio Hijack yet.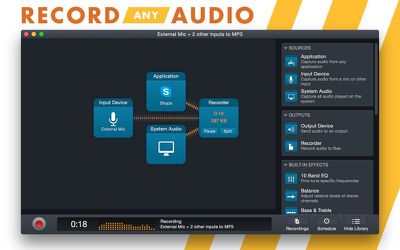 Audio Hijack 3 includes a new audio capture interface, which lets users see the sound as it's being captured using a pipeline-style view that organizes different types of audio into Blocks for full customization.
The most visible change is Audio Hijack's new audio capture interface. The terrific pipeline-style view of exactly how audio flows makes Audio Hijack 3 a snap to learn for veteran and rookie users alike. Different types of Blocks bring in audio from application and hardware sources (Source Blocks), adjust it with audio effects (Effects Blocks), then record it and send it out to speakers (Output Blocks). The fully customizable layout means users can configure the exact pipeline they need, to get the audio results they want.
The app is organized into three sections, including Sessions, Recordings, and Schedule, and Session Templates let users complete common tasks quickly. It's possible to record multiple formats at once, or different sources in sync, and there are simple tools for accessing various audio effects.


Dirty audio can be fixed with Denoise, Declick, and Dehum tools, and there are new preset options for saving configurations. For the first time, Audio Hijack can record in lossless FLAC format and in high-efficiency AAC.
Jason Snell of SixColors and Chris Breen of Macworld have both written detailed reviews of Audio Hijack 3 that are well worth reading to get a solid sense of what's new and how the software works.


Audio Hijack 3 is available for Macs running OS X 10.9 and up. It can be downloaded from the Rogue Amoeba website for $49. New users will need to pay the standard $49 price, but people who purchased an Audio Hijack product in the past can upgrade to Audio Hijack 3 for $25. Customers who purchased Audio Hijack Pro since February of 2014 can download the new software for free.