Apple has posted a new video on its official Chinese retail website showing renowned calligrapher Wang Dongling creating a mural for the company's upcoming West Lake store in Hangzhou. The video shows the artist using precise brush strokes to form characters around an Apple logo on a surface, which is then shown covering the West Lake retail location.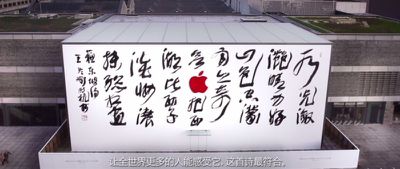 Last week, Apple retail chief Angela Ahrendts commented on Apple's expansion strategy in China, which involves the opening of five new retail stores in the next five weeks to coincide with the festive shopping of the February 19 Chinese New Year holiday. With the addition of five new stores, Apple would be operating a total of 20 locations in China and Hong Kong with an ultimate goal of 40 stores in China over the next several years.
Apple's new West Lake store in Hangzhou, China opens on Saturday, January 24 at 9 AM local time.
Update: Apple has posted a new version of the video on YouTube with English subtitles.