Retina 5K iMac Models Now Available From Apple's Online Refurbished Store
Apple recently started selling the 27-Inch iMac With Retina 5K Display in the refurbished section of its online store, as first noticed by MacGeneration and 9to5Mac. These refurbished models offer customers the chance to save up to 15 percent off the retail price of a brand new model.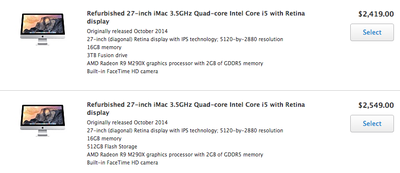 Several 27-inch Retina iMac models are available, including the entry-level model which is availablee for $2119 and includes a 3.5GHz Intel Core i5 processor, 8GB of memory and a 1TB Fusion Drive. Other available Retina iMacs include a $2,419 model with 16GB of memory and a 3TB Fusion Drive and a $2,549 unit with 16GB of memory and 512GB flash storage. All three models are in stock and available to ship today.
After months of speculation, Apple unveiled the 27-Inch iMac With Retina 5K Display during its October media event. The consumer desktop features a 5120 x 2880 pixel display with improved contrast, viewing angles, and color accuracy. Early impressions of the machine were favorable with reviewers praising the "stunning display" and noting that it is a "huge step up" from Apple's notebook Retina displays.