Apple Pay May Be Expanding to Canada as Soon as March
Apple Pay has been exclusive to the United States since its launch last October, but it now appears Apple is preparing to take the mobile payments service international with an expansion to Canada as soon as this March. Citing sources "close to the situation," 9to5Mac reports Apple is currently in negotiations with Canadian partners, preparing and planning various promotional materials over the next few weeks for use during the upcoming launch.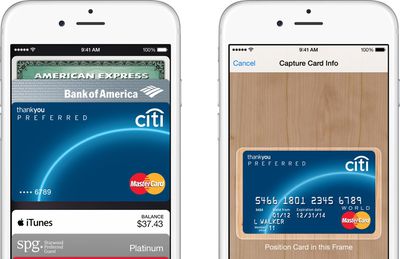 Apple and Canadian launch partners are in the process of planning advertising and other promotional material for March, which indicates that the launch could come as soon as then. Of course, these are still active discussions and it's possible the talks could fail to result in a launch by March. Several sources, however, tell us Apple is currently targeting that timeframe.
International expansion of Apple Pay has been the subject of several rumors in recent months, but Apple has yet to make any official announcements about its plans. Apple Pay has, however, been growing steadily in the U.S. since its October launch, adding new banks, credit unions, and retail partners at a steady rate.
Rumors of a March launch for Apple Pay in Canada fall in line with the current rumor of the Apple Watch launching in the same month, although it is unclear whether Canada will be in the first wave of launch countries for Apple Watch as Apple's Canadian website says "Available in 2015" while the company's U.S. site mentions a more specific "Coming Early 2015." With the Apple Watch capable of supporting Apple Pay payments, however, it seems natural for Apple to be pushing forward on international expansion of the payments service as the watch's launch approaches.