Apple in Talks with Major Banks to Launch Apple Pay in UK During First Half of 2015
Top banks across the UK are currently negotiating with Apple to launch Apple Pay in the country during the first half of 2015, reports The Telegraph. Sources close to the matter note that the major banks have cited privacy concerns over the personal and financial information of users, but admit that they are positive about the impact the service has had in the United States.
It is understood the bank is uncomfortable with the amount of personal and financial information Apple wants to collect about its customers. Some executives fear Apple Pay and the data it delivers to Apple could serve as a beachhead for an invasion of the banking industry.

Sources accepted no major bank will want to miss out on Apple Pay, however, as early signs from the United States suggest it may be the service to finally convince consumers to pay with mobile phones.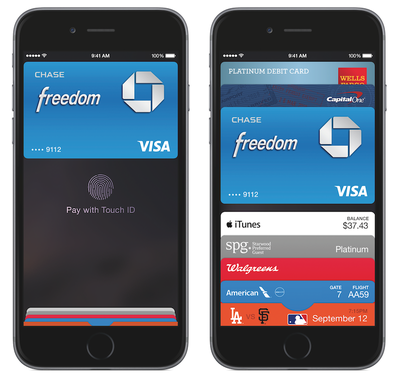 The news comes after Apple posted a job listing for an "Apple Pay Intern" earlier this month, which revealed that the company is "working hard" to expand its payment service across Europe, the Middle East, India, and Africa. Visa also said in September that it would be working with Apple to roll out Apple Pay across Europe in 2015, and e-commerce giant Alibaba has also been in talks with Apple over a potential partnership that would bring the service to China.
Apple Pay has seen impressive early adoption numbers since first launching in October, with ITG noting that the service accounted for 1% of all digital payment dollars in November. Apple Pay has seen adoption at a number of popular retailers and restaurants in the United States, including Macy's, Subway, Walgreens, McDonalds, Whole Foods, Nike, and more.