Manufacturing Mold for 'iPad Pro' Rear Shell or Dummy Unit Shown in New Photo
A user on China's Weibo microblogging site today posted a new photo (via Letem svetem Applem) simply labeled "iPad Pro". The photo shows what appears to be a mold for the rear shell of Apple's rumored larger tablet with a display in the range of 12-13 inches, although it is unclear whether this mold is supposed to be for an actual iPad Pro shell or for a dummy unit such as the one that surfaced in a photo last May.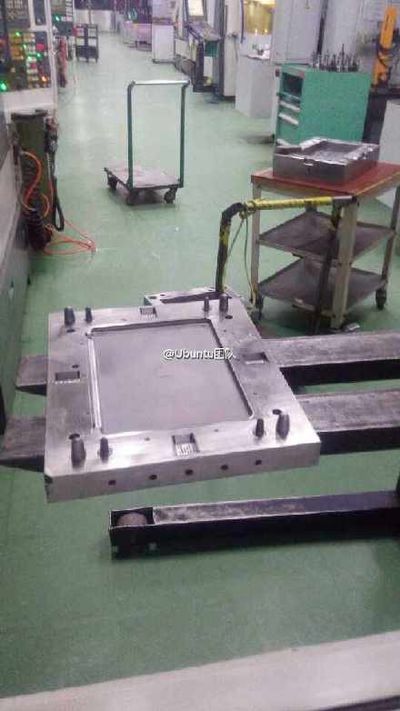 Few details can be discerned from the relatively poor quality photo, although it does appear to show faint details that could represent an Apple logo in the center and perhaps a rear camera feature in a corner. Exact size is also unknown, but it certainly appears larger than an iPad Air.
The relatively simple design of the mold suggests this may be an unofficial mold being used create dummy units for manufacturers. Such units frequently, but not always, turn out to be accurately based on information leaking out of Apple's supply chain.
Timing on a release for the iPad Pro has been in question for some time, with The Wall Street Journal reporting last October that Apple had pushed back production on the device in order to allow its suppliers to focus on the popular iPhone 6 and 6 Plus. Reports have indicated the device could still launch in the April-June timeframe, but there have yet to be any apparently legitimate part leaks for the device.