DockPhone, a newly released Mac app, fixes a problem many OS X Yosemite users have faced in the months since the release of the new operating system: the inconvenience of opening FaceTime or Contacts to make a phone call on a Mac. With DockPhone app, users can now search for contacts or directly enter a number within the app, bypassing the need of opening FaceTime altogether.
Though it was one of the major new Continuity features included in OS X Yosemite when it launched earlier this year, many users lamented needing to open FaceTime or Contacts to place phone calls from their desktops or laptops. Receiving calls was simple, but making them through the video chat app designed for a different purpose or cluttered Contacts app felt unintuitive.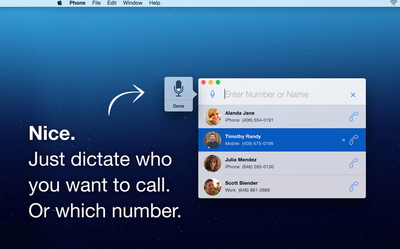 DockPhone lets users skip that step, offering a streamlined experience allowing users to easily enter a contact's name or specific phone number to start a phone call. The app interacts with FaceTime behind the scenes to connect with your iPhone, and finally get the call out to the person you dialed. As with making normal phone calls on a Mac, users still need OS X Yosemite on their Mac, an iPhone with iOS 8 or later, and both devices on the same Wi-Fi and iCloud accounts.
While DockPhone is not the first app to offer such functionality, with others such as Keypad having launched some time ago, DockPhone uniquely allows users to also use their voice to begin phone calls. After clicking the microphone button, simply saying the name of a contact or reciting a phone number will begin a call. Recent contacts also appear in widget form in the Notification Center sidebar of your Mac screen, with quick-access prompts to contact them again.
DockPhone is available for download from the Mac App Store for $0.99. [Direct Link]