After numerous failed attempts at predicting Apple's first foray into television sets, Piper Jaffray analyst Gene Munster has not yet given up hope that the company will deliver. During an interview at Business Insider's 2014 Ignition Conference earlier this month, Munster made yet another prediction on the rumored Apple technology, citing a two-year wait for Apple's own television set.
Munster regarded this year's prediction as an "annual penance" for being consistently incorrect in guessing the release date for Apple's rumored television set. Instead of the usual one-year prediction Munster has been throwing out the past few years, the analyst looked into the past to further support his two-year suggestion for Apple's next big product.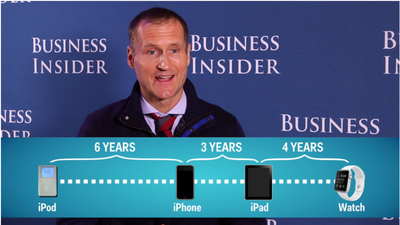 "Apple takes a long time in-between products. If we look back over the last decade, it's 3-6 years between major products. And so, ultimately the Watch is what hit this year, they're gonna refine that next year along with payments. And then that probably gets us into 2016 as more of a time frame for the actual television."
Though it may seem a bit behind the game for Apple to launch a television set when connected TVs are already becoming ubiquitous and prices continue to decline, Munster looks at the lack of innovation and the true potential of Apple entering the market as significant positives for the company.
"So far the connected TV market really hasn't done much, they sell a lot of units but people don't really use the connected TV part unless they're accessing Netflix. So the concept of what the opportunity can really hold around connected TVs hasn't even been tapped, so they haven't missed out on anything."
Business Insider went on to ask Munster about the potential market gains Apple would see if they entered into the television set space. Munster addressed the current plateauing market of around 220 million TVs sold every year, hypothesizing that if Apple captured 10 percent of that market (Apple currently has 20 percent of the smartphone market) it could possibly sell around 22 million TV sets per year. Munster thinks that that market size is "big enough that it could be a 5 or 10 percent addition to the overall size of Apple."
Finally, Munster addressed the price of the possible Apple TV set, thinking it could run around $1,500, or "about double a comparable sized TV." Rumors began swirling around an Apple TV set a few years ago, particularly after Steve Jobs himself hinted at a breakthrough in his authorized biography published shortly after his death in late 2011. Rumors have been mostly quiet in recent months, however, as attention has turned away from a TV set or even a revamped set-top box and toward the imminent launch of the Apple Watch.