Apple Watch Marketing Page Updated With 'Timekeeping', 'New Ways to Connect', 'Health and Fitness' Pages
The marketing website for the Apple Watch has been updated (via 9to5Mac) with additional details about how it functions as a watch, new ways that wearers will communicate, as well as more about the watch's health and fitness features.
Apple's marketing team has also added new animations to the site, showing how the Apple Watch will move between screens and how some of the apps will work. Much of the basic information was already located on the Apple Watch site, but lots of it has been broken out with more information and detail.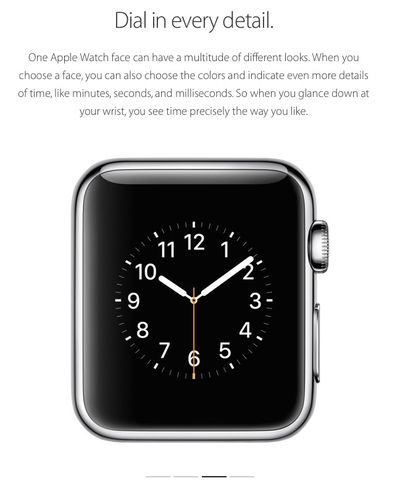 The new Timekeeping page reveals more about some of the watch faces that are included with the Apple Watch, including details about Complications -- specialized functions on a watch face like moon phases, sunrise and sunset, or, for the Apple Watch, stock quotes and weather.
Apple Watch is first and foremost an incredibly accurate timepiece. It does everything a watch should, but in ways no other watch ever has. It's also connected to your calendar, your contacts, and your schedule. So in addition to showing you the time, Apple Watch actually understands what time means to you. It helps you be more productive and efficient. So you get more out of every moment.
The New Ways to Connect page talks about the Friends feature that makes it easy to send messages, make a call, or reach out to other Apple Watch users. Wearers can send a tap, draw a picture, or share their heartbeat with other Apple Watch wearers, but they can also send and receive text messages, audio snippets, share a location, make phone calls and email right from the watch. Wearers can also use Handoff to start a call or email message from the Apple Watch and seamlessly transfer it to the iPhone.
You won't just send and receive messages, calls, and mail more easily and efficiently. You'll express yourself in new, fun, and more personal ways. With Apple Watch, every exchange is less about reading words on a screen and more about making a genuine connection.


Finally, the new Health and Fitness page talks about the different ways Apple Watch measures movement, as well as additional details on the included Workout app. The watch tracks movement, exercise and how often the wearer stands up throughout the day, giving subtle reminders as needed to encourage more movement.
The watch uses its accelerometer, heart rate sensor, as well as Wi-Fi and GPS locations from the iPhone to follow movement as well. The Workout app shows real-time stats including time, distance, calories burned, pace and speed for running, walking and cycling. All data is tracked over time, making it easy for wearers to track their improvement.
Apple Watch is our most personal device ever, and there's nothing more personal than your health. Just as Apple Watch is designed to keep you more efficient, organized, and productive, it's also made to keep you moving. Because being active is vital to living a healthy life.
The Apple Watch is scheduled to go on sale early next year, though Apple has not gotten any more specific than that.