Apple Reportedly Investigating Television Set Components as Anticipation Builds
Piper Jaffray analyst Gene Munster, whose long-standing claims of an Apple television set have been gaining steam in recent months as new rumors have surfaced in support of the idea, issued a research note late yesterday (via AppleInsider) discussing some new developments with Apple's work. Specifically, Munster notes that he had recent discussion with a "major TV component supplier" which disclosed that Apple had contacted the company to inquire about their products. The disclosure adds another data point to rumors from Asian supply chains that Apple has been working on a television set. The relevant portion of Munster's report is quoted by Barron's:
In Jan-12 we spoke with a major TV component supplier who has been contacted by Apple regarding various capabilities of their television display components. We see this as continued evidence that Apple is exploring production of a television. This latest data point follows Jan-11 meetings in Asia that led us to believe Apple was investing in manufacturing facilities for LCD displays ranging from 3.5″ mobile displays to 50″ television displays. In Sept-11 we met with a contact close to an Asian supplier who indicated that prototypes of an Apple Television are in the works. We believe TV hardware could be ready for a late CY12 launch, but the timeline and scope of a revamped content solution is more uncertain.
Observers have been looking for Apple's next major product line even as the iPad and iPhone experience booming sales and the Mac continues its resurgence with long-standing steady growth easily outpacing that of the overall PC industry. The rumor mill clicked into high gear on the topic of an Apple television set with Steve Jobs' disclosure in his authorized biography that he had "finally cracked" how to revolutionize television technology.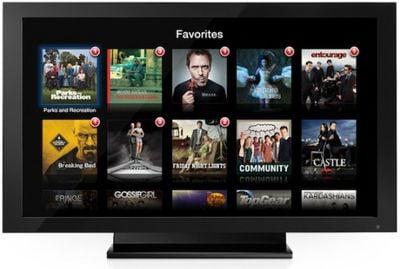 Rumors have since focused on an integrated television set involving iTunes and iCloud and controlled via Siri voice technology. One report has claimed that Apple design chief Jony Ive has a 50-inch Apple television set prototype in his design lab, although various sources have at different times claimed a wide range of sizes for Apple's TV set, from 32 inches to over 50 inches.
Sources seems to suggest that Apple is shooting for a launch of its television set later this year or early next year. What remains unknown is whether Apple will be able to make any revolutionary changes on the content side within that timeframe. The company has made several efforts to work with content providers on ideas such as "best of TV" packages that would be made available through iTunes and enable users to in some cases eliminate their cable television subscriptions, but the company has reportedly made little progress in those negotiations.