SunTrust Bank and BI-LO, Winn-Dixie, Harveys Grocery Stores Add Apple Pay Support [Updated]
Apple Pay this week continued its retail expansion with the mobile payment service now being adopted by SunTrust bank and Bi-Lo holdings, which manages BI-LO, Harveys, and Winn-Dixie grocery stores. The latter announcement follows our earlier report of Winn-Dixie and BI-LO beginning to go live with Apple Pay support late last week ahead of an official debut, despite not being included on Apple's "Coming later this year" list.
Customers with a SunTrust credit or debit card will be able to add their card to Apple Pay and use it to make purchases at participating retailers. Headquartered in Atlanta, SunTrust bank has 1,497 bank branches across eleven southern states and Washington, D.C.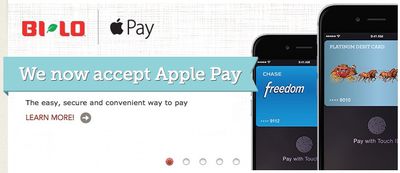 At the same time SunTrust has added Apple Pay support for its card holders, supermarket chain Bi-Lo Holdings also added Apple Pay as a payment option during checkout. Customers who shop at the primarily southeastern supermarkets of BI-LO, Winn-Dixie, and Harveys will be able to use their iPhone 6 of 6 Plus to streamline their grocery purchases.
"Customers want a shopping experience that is convenient, easy and secure, which is why we're so pleased to announce support for Apple Pay," said Bert DuMars, vice president, digital marketing at Bi-Lo Holdings. "Bi-Lo Holdings is prioritizing digital mobile solutions for our customers, and Apple Pay is an exciting first step in our journey."
Apple Pay debuted last month alongside iOS 8.1 and has seen strong adoption in the month following release. According to a recent New York Times report, Apple Pay transactions accounted for 50 percent of recent tap-to-pay purchases at McDonald's and doubled the number of mobile payments processed by Walgreens. Currently, there are almost 40 retailers that officially support Apple Pay, with the number continuing to grow.
Update 9:14 AM: According to Mashable, Associated Food Stores, Shaw's Supermarkets, Jewel-Osco, and Albertson's have also announced Apple Pay support today.