Apple Pay Doubled Mobile Wallet Transactions at Walgreens, Accounted for 50% of Tap-to-Pay Purchases at McDonald's
Apple Pay has been available in quite a few retail stores since its release more than three weeks ago on October 20, but thus far there's been little concrete indication of its popularity with customers. A new report from The New York Times, however, sheds some light on Apple Pay's early success.
McDonald's, an early Apple Pay partner that accepts the payment system in all of its 14,000 restaurants in the United States, saw Apple Pay accounting for 50 percent of all of its tap-to-pay transactions. At Walgreens, a drugstore chain of more than 8,000 stores, Apple Pay doubled the number of mobile wallet payments being made.
As shared earlier this month, Whole Foods processed 150,000 Apple Pay transactions between October 20 and November 6, which equated to an estimated one percent of all Whole Foods transactions.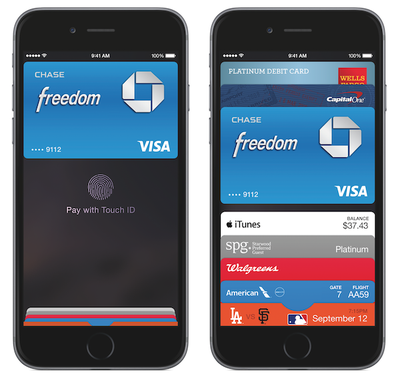 Some stores, however, haven't seen as much success with Apple Pay. According to Toys R Us, which has 870 stores in the United States, while there was an increase in mobile payments, it was minor "because customers were still learning about the new technology."
As noted by The New York Times, the interest consumers are expressing in Apple Pay hints at a growing acceptance for mobile payment solutions. Denée Carrington, a Forrester Research analyst attributed Apple Pay's early success to the "strength of the Apple Brand" and the ease of the experience. "I'm not saying it's changing the landscape overnight," she said. "But this has never happened with other mobile wallets."
Along with bolstering mobile wallet usage in retail stores, Apple Pay has also been responsible for increasing consumer interest in the mobile payment arena in general. Google Wallet, for example, saw a surge in usage after the launch of Apple Pay, and Softcard, another mobile payment solution backed by AT&T, Verizon, and T-Mobile has also seen a growing number of users.
According to Softcard CEO Michael Abbott, "Apple Pay has been a huge tailwind" and a "rising tide that has lifted all boats."
Mr. Abbott said that because of Apple, many companies now want to support the same technology for paying by phone: near-field communication, which enables devices to exchange information wirelessly over very short distances. This consistency would help make paying for things with a smartphone less confusing for shoppers.
Apple currently has 36 retail partners that accept Apple Pay in their stores, and new partners are signing up on a regular basis as the payments service catches on. Just this week office supply store Staples and grocery chains Winn-Dixie and BI-LO began accepting Apple Pay payments.