Apple Adds 'Anti-Beats' Master & Dynamic Headphones to its Online Store, Proves Open to Competition
Though Apple acquired its own headphone brand with the purchase of Beats Electronics earlier this year, the Cupertino company is demonstrating that there's still room for competitors in its Apple Store with the new addition of premium headphones by Master & Dynamic.
As of this week, Apple is now selling the Master & Dynamic MH30 On-Ear Headphones and the Master & Dynamic MH40 Over-Ear Headphones in its online store after launching in select retail stores last month. Priced quite similarly to premium Beats headphones, the $349 and $399 Master & Dynamic headphones focus on both design and high-quality audio, much like Beats.
In a July post, Forbes profiled Master & Dynamic's headphones, labeling them "the Anti-Beats by Dre." Rather than aiming for a more modern look with a bass heavy sound and flashy advertising, Forbes says Master & Dynamic headphones have been designed with a classic style, a focus on music, and a desire to provide a quality product for a niche market.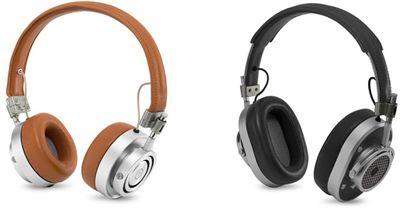 The niche that Jonathan Levine, the company's founder and CEO, saw was that Beats had blown open a massive market, but left a huge hole between premium headphones that prioritized style and those that focused on audio quality. Master & Dynamic seeks to wed design and quality in a way that attracts both audiophiles and users who wear their headphones as an accessory.
Master & Dynamic headphones, which are new to the market this year, have gotten largely positive reviews from music-focused publications, being lauded for their sound quality and their comfortable design, which includes earcups with calfskin and lambskin. One reviewer compared the headphones to the Parrot Zik, another set of high-quality headphones that have received excellent reviews.
In October, Apple removed Bose headphones from its Apple Stores, a move that some chalked up to Apple's reluctance to sell a product that competed with its line of Beats headphones, but Bose products began returning to the Apple Store earlier this week. It remains unclear why Bose headphones had been removed from Apple Stores, but it may have been related to a now-settled patent infringement lawsuit Bose levied against Beats.
Most Bose headphones have not yet returned to Apple's online and retail stores, but it is possible they'll be re-added in the near future. Though Apple has placed a heavy focus on Beats headphones, giving them a prominent place both in retail stores and online, Apple has shown few signs of cutting out all competition.
In addition to adding new headphones from competing brand Master & Dynamic, the company continues to sell a range of other headphones from companies like Bowers & Wilkins, Alpine, Parrot, SMS Audio, Marshall, Denon, Sennheiser, and more.