Apple Adds Dedicated Beats By Dr. Dre Accessory Section to Online Store
Now that Apple's purchase of Beats Electronics is complete, the company has begun expanding its promotion of Beats products, giving the Beats by Dr. Dre line of accessories its own dedicated section in the Accessory portion of the Apple Online Store.
Added yesterday, the Beats by Dr. Dre section joins "All Accessories," "Apple Accessories," "Exclusives," "Now Trending," and Gift Cards" on the top menu bar of the "Shop Accessories" section of the online store.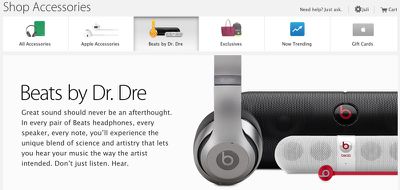 Though Apple has long sold Beats products, the dedicated menu bar position gives the accessories far more prominence online. The section, first noticed by 9to5Mac, promotes Beats headphones, Beats in-ear headphones, Beats speakers, and Beats accessories like the Pill Dudes and Sleeves designed to hold Beats speakers.
Apple is also continuing to show off the Beats line of headphones in its retail stores, with the Beats by Dr. Dre Solo2 and Studio over-ear headphones accompanying iPod touches in many retail locations.
Apple's $3 billion acquisition of Beats Electronics and Beats Music became official last week, following U.S. regulatory approval of the deal. As of August 1, Beats Electronics shut down its own online store and began directing customers to the Apple Online Store.