Google Chromecast Leapfrogs Apple TV as the Aging Media Player Loses Ground to Rivals
Amid persistent rumors of substantial upgrades, the current Apple TV is beginning to show its age, losing ground in the streaming media device marketplace to rival Google Chromecast and Roku in the first three quarters of 2014, according to market researcher Parks Associates as reported by CNET. Apple's decline comes at a time when interest in streaming media devices is on the upswing, with 10 percent of households buying at least one media player this year.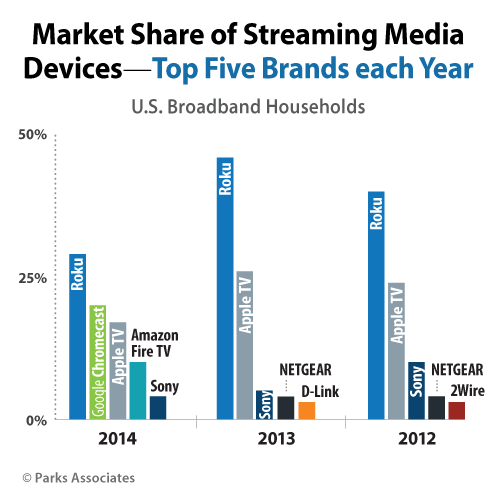 Despite a decent drop in market share over the past year amid increased competition, Roku remains the leader among set-top boxes and streaming media sticks, accounting for 29 percent of the market in the 9-month period, down from 46 percent in 2013. Google's Chromecast stick had a strong showing in 2014, climbing to the number two slot with 20 percent market share and knocking the Apple TV down to number three. With 17 percent share, the Apple TV remains in front of Amazon's Fire TV and Fire TV Stick, which together accounted for 10 percent market share, although the Fire TV stick is just now rolling out to consumers.


The Apple TV was first introduced in 2007 and has been updated periodically during its seven-year lifespan. It currently remains in its third generation with the last major hardware update released in March 2012, followed by a minor revision in January 2013. Multiple rumors this year hinted at a refreshed Apple TV hardware with App Store integration, Bluetooth controller support, and more, but those rumors have yet to pan out. Though its Apple TV hardware has been essentially unchanged for over two and a half years, Apple continues to make improvements to the software and add new channels to the Apple TV lineup.