Along with iOS 8, Apple has also released the new Apple TV software update that's been in development for the last few months. The updated software includes new icons, which are designed to resemble the icons in iOS 7, taking on a flatter, less glossy look.
Several icons, like Music, Computers, and TV shows have new colors, and the on-screen fonts have been updated as well. The update includes support for several features that have been built into iOS 8 and OS X Yosemite, like Family Sharing and iCloud Photo Support.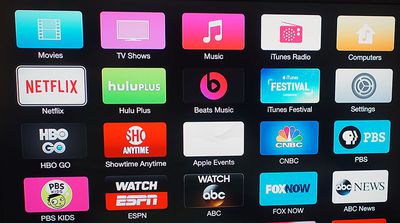 With Family Sharing, families of up to six people with iTunes accounts that use the same credit card can share content like apps, iBooks, music, movies, and more, across all of their devices using iCloud. Family Sharing also lets families share photos, videos, a calendar, reminders, and more, to keep everyone in the family connected.
In addition to introducing a new look and new features, today's update brings a Beats Music channel to the Apple TV for the first time, allowing users to log into their Beats accounts to listen to streaming music from the Apple TV.
The new software can be downloaded for free on the Apple TV by going to the Settings channel and selecting General --> Software Update. The update is limited to users who have third-generation Apple TV boxes.