T-Mobile Discounting Select iPhone Models, Including 64GB iPhone 6, by $100 for Cyber Monday
T-Mobile is offering a significant discount on its iPhone lineup for Cyber Monday, most notably taking $100 off the 64GB model of the new iPhone 6. Instead of just a straight cash discount, the carrier is offering a memory upgrade that boosts the storage of the smartphone without additional cost to the customer.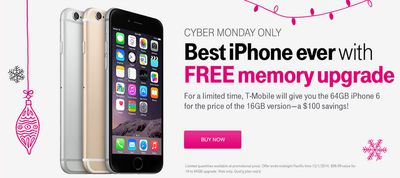 The carrier's upgrade offer allows you to buy a 16GB model iPhone 6 and receive a free upgrade to the 64GB model, a $100 savings. The promotion also extends to the iPhone 5s and 5c, with T-Mobile upgrading the 32GB iPhone 5s to the 64GB version and the 8GB iPhone 5c to the 32GB model.
T-Mobile's promotion runs until midnight Pacific Time tonight. This offer is one of several promotional pushes by the carrier designed to attract new customers to its cellular network. Earlier this year, T-Mobile introduced a generous $350 per line termination fee bonus and phone buyback program to customers who switch carriers. It also recently launched an iPhone "test drive" program that allows customers to try an iPhone on T-Mobile for seven days without cost.