OS X Yosemite Users Experiencing Issues With YouTube Videos in Safari [Updated]
The latest update to OS X Yosemite, 10.10.1, appears to be causing some users to be unable to play YouTube videos in Safari. According to threads on the Apple Support forums and Google's Product forums, some users that attempt to play YouTube videos are seeing only black screens with audio clipping or are experiencing problems loading videos.
Other users are able to play videos, but are seeing a brief error message before a video begins to play, and still other users are getting complete browser crashes when attempting to watch a video. For some users, the problems just started a few hours ago, suggesting the issue may be on YouTube's end.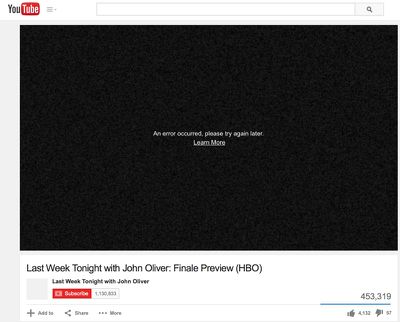 I installed Yosemite on my iMac (20-inch, Mid 2007) when it was first released and I had no issues whatsoever.

Last night I updated Yosemite to 10.10.1 and now all of a sudden Safari Version 8.0 (10600.1.25.1) won't play any YouTube videos. All I get is a black screen with a little audio clipping.

When using Firefox (v32.1.1) or Chrome (v38.0.2125.122) everything works ok.
MacRumors has confirmed the problem and has also had some trouble loading certain YouTube videos in Safari. Users on the support forums have tried various methods to fix the issue, including resetting PRAM, clearing cookies and caches, but nothing appears to work to fix the problem. One user discovered a temporary fix, going to Develop --> User Agent --> and checking Google Chrome - Mac, but the fix resets when the browser is closed.
YouTube videos appear to be playing fine in both Chrome and Firefox, so a workaround until a fix is available is to watch videos in an alternate browser.
Released to the public on Monday after two weeks of testing, OS X 10.10.1 bundled in reliability improvements to Wi-Fi, Microsoft Exchange, Mail, and Back to My Mac. Apple has already seeded a second Yosemite update, 10.10.2, to developers, but that beta has its own issues, including problems with Chrome, and user reports suggest the Safari error is present on 10.10.2 as well.
Update: Users on OS X 10.10.0 are also reporting the issue, suggesting it is indeed a YouTube problem.
Update 2: YouTube videos are once again working properly for Yosemite users.