iPhone 6 Plus Shipping Times Improve Slightly, Now 7 to 10 Days for 16GB Model
As the Thanksgiving holiday approaches, Apple Store shipping estimates for the iPhone 6 Plus have improved slightly, with the 16GB iPhone 6 Plus in all colors and from all carriers now carrying a shipping estimate of 7 to 10 days in the United States. Shipping estimates for the 64GB iPhone 6 Plus in all colors and from all carriers have also seen improvement, going from 3 to 4 weeks to 2 to 3 weeks.
While shipping estimates for the 16GB and 64GB iPhone 6 Plus have improved, shipping estimates for the harder-to-find 128GB iPhone 6 Plus remain at 3 to 4 weeks, suggesting the higher-capacity model is the most constrained.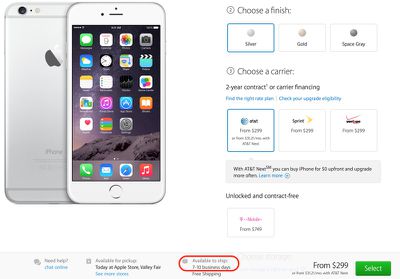 Apple is also seeing improved supply of the iPhone 6, and the 16GB device now has a shipping estimate of 5 to 7 days, down from 7 to 10 days. Higher-capacity 64 and 128GB iPhone 6 models continue to ship in 7 to 10 days.
Many other countries in Europe and Asia are also seeing the same improved shipping estimates from the online Apple Store, as are Canada, Australia, and New Zealand.
In store supply of the iPhone 6 and the iPhone 6 Plus also appears to be improving somewhat, as many stores across the country list availability of both the iPhone 6 and iPhone 6 Plus in 16 and 64GB configurations. Apple Stores continue to receive new iPhone shipments on a regular basis, but stock can go quickly because many retail locations are still seeing lines more than two months after the phones first went on sale. Tracking tool iStockNow can be used to find where iPhone 6 and 6 Plus devices are available.


During Apple's fourth quarter earnings call on October 20, Apple CEO Tim Cook said that demand for the iPhone 6 and 6 Plus was "far outstripping" supply, and that the company was "not close" to having a balance between supply and demand at that time. Apple has, however, been working hard to improve iPhone 6 and 6 Plus supply, reportedly delaying mass production of the rumored iPad Pro in order to focus its resources on higher iPhone 6 Plus output.
Early analysis has suggested that consumers in the U.S. are favoring the iPhone 6 over the 6 Plus by 3:1, but as supply of both models remains constrained, it is impossible to determine the true ratio of iPhone 6 demand vs. iPhone 6 Plus demand at this time.