Clear Geographic Split Shows iPhone 6 Plus Especially Popular With Asian Customers
Apple's iPhone 6 continues to outsell the iPhone 6 Plus around the world, but the larger-sized phone is proving to be a significant hit in some markets, reports AppLovin in its latest
November 2014 report
.
According to AppLovin's analytics data, the iPhone 6 outsold the 6 Plus in an 80/20 ratio overall in the first 45 days of availability. While Europe, North America and Australia roughly follow this global sales distribution or lean slightly more heavily toward the iPhone 6, the trend changes in Asia, where the iPhone 6 Plus typically accounts for 35 percent or more of iPhone sales.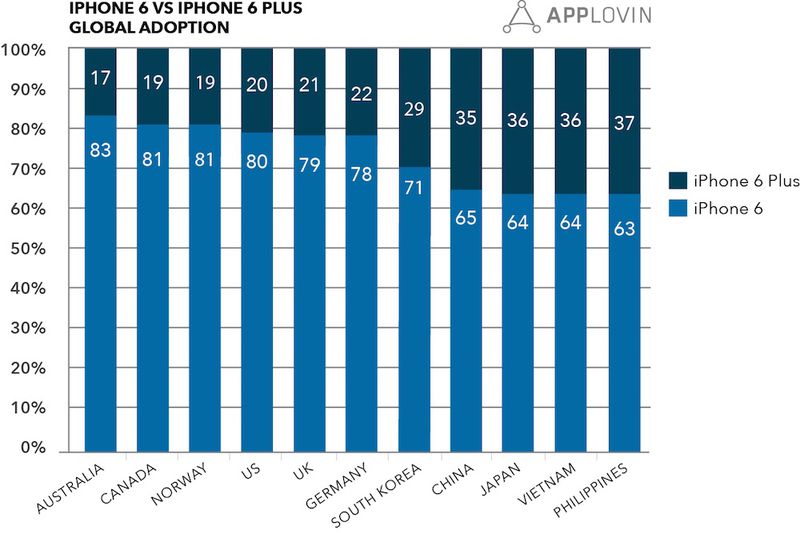 South Korea, home to rivals Samsung and LG, is the only Asian country studied with an iPhone 6 Plus adoption rate below 35 percent. The country has a lower 71/29 split, perhaps related to competition from Samsung's Galaxy Series and LG's G3 phone in the large-screen market or simply due to customer preference for other reasons.
The split between iPhone 6 and 6 Plus may still be artificially constrained due to continuing shortages of the larger iPhone 6 Plus, but AppLovin's data offers an interesting glimpse of screen size preferences around the world. The ratio also varies significantly by data source, with a
recent survey
putting the U.S. ratio at 3:1 in favor of the iPhone 6 over the first four weeks of availability while AppLovin's data points to a 4:1 split.
As
discussed
by Apple's iPhone marketing chief Greg Joswiak at the Code Conference last month, the true ratio of demand won't be known until supply shortages are alleviated, but he did acknowledge that the ratio varies from country to country with Asian customers typically proving more likely to prefer larger screens, an observation supported by AppLovin's data.