OWC today expanded its ThunderBay lineup of storage devices with the new ThunderBay 4 mini and ThunderBay 4 mini RAID 5 Edition. These new portable RAID devices are designed for 2K and 4K video editing with fast Thunderbolt 2 performance and SSD support.
"Our new ThunderBay 4 mini is perfect for mobile workflows involving demanding applications and large mission-critical files," said Jen Soulé, OWC President. "The combination of RAID-ready capabilities and Thunderbolt 2 technology makes working with large 2K and 4K files easier, faster, and more flexible and affordable than ever before. Now users can get big performance in a small footprint - all in a portable, production-grade 4-Bay enclosure."
The ThunderBay 4 mini and mini RAID 5 Edition both include four 2.5-inch drive bays that are compatible with either HDDs or SSDs, allowing owners to build a storage solution suitable for their needs. The new ThunderBay minis also include Thunderbolt 2 transfer speeds of 1,284MB/s, the ability to connect multiple ThunderBays into a RAID array and OWC's signature drive "burn-in" reliability.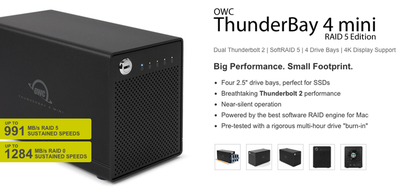 Similar to earlier ThunderBay models, the ThunderBay 4 mini is available in a base bring-your-own-drives model for $379 with configurations from 2 TB to 8 TB available at additional cost.
While the ThunderBay 4 mini and the mini 4 RAID 5 Edition share the same internals, the RAID version ships preconfigured for RAID 5 with support for RAID 0, 1, 4, 5, and 1+0. Pricing on the RAID model starts at $479 when you supply the necessary drives and climbs to $2,499 for the 4 TB SSD model.
Both the ThunderBay 4 mini and ThunderBay 4 mini RAID 5 Edition are available now at OWC's website. The larger desktop ThunderBay 4, introduced last year with support for 3.5-inch drives, is still available starting at $449 for the bring-your-own-drives configuration.