Apple Releases iOS 8.1.1 With Bug Fixes, Performance Improvements for iPad 2 and iPhone 4s
After two weeks of testing, Apple has released iOS 8.1.1, a minor update that includes several bug fixes. Apple first seeded the iOS 8.1.1 beta to developers on November 3.
iOS 8.1.1 is available immediately as an over-the-air download. Apple has also released new Apple TV software and an update to OS X Yosemite, OS X 10.10.1.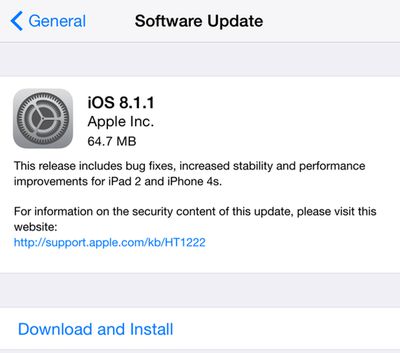 According to Apple's release notes, iOS 8.1.1 includes bug fixes and increased stability and performance improvements for both the iPad 2 and the iPhone 4s, two of the older devices that support the operating system.
iOS 8.1.1 may offer several bug fixes, but as a minor update, it does not bundle in any of the major new features that are rumored for iOS 8, like improvements to Maps and split-screen multitasking for the iPad. These updates may come in iOS 8.2 or iOS 8.3, both of which Apple is rumored to be working on.