First Look at the New Beats Solo2 Wireless Headphones
Earlier this week, Beats Electronics introduced new Solo2 Wireless on-ear headphones, the first product the company has released since its acquisition by Apple became official back in August. While the headphones are not yet available for purchase on the Beats website, Mike Liang, aka HiFiGuy on YouTube has gotten an advanced first look at the new Solo2 Wireless headphones and has shared both photos and first impressions with MacRumors.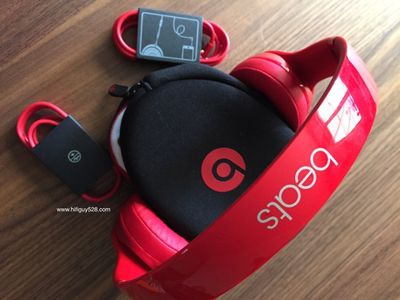 The Beats Solo2 Wireless headphones share the same design as the Solo2 headphones that Beats introduced back in May, with Beats' signature large cups emblazoned with the Beats logo. Aside from some small print on the box, there's no Apple branding or Apple references on the Solo2 Wireless headphones.


Reviews of the original Solo2 headphones suggested Beats had toned down the bass with the new design, offering better acoustics, and Liang says that the Solo2 Wireless headphones sound identical to the existing Solo2 headphones.
Solo2 Wireless has an exciting/energetic sound signature that's suitable for a wide variety of music genres (even Classical). No more muffled midrange and flabby bass of the old SoloHD by Monster. Audiophiles will certainly appreciate the much improved sound signature. No one can honestly say that the new Solo2 Wireless sound bad. These are good!
According to Liang, the Solo2 Wireless headphones paired easily to his MacBook Pro, taking only seconds to setup, but unfortunately it appears that Beats has opted to use the SBC Bluetooth codec rather than aptX, which is believed to offer superior sound quality.


Beats plans to begin selling its Solo2 Wireless headphones later this month for $300, a $100 premium over the standard Solo2 headphones. The Solo2 Wireless headphones are available in black, white, and blue, with Verizon exclusively offering a red option through the end of the year. Beats has also released new "Royal Edition" color options for the standard Solo2 headphones, making them available in Stone Grey, Hunter Green, Imperial Violet, Blush Rose, and Sapphire Blue.