Staples Begins Accepting Apple Pay in Retail Stores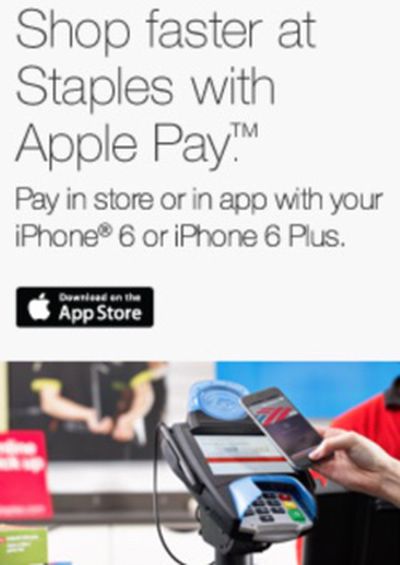 As of today, popular office supply store Staples has begun accepting Apple's Apple Pay payments service in its retail stores across the United States, according to information shared with MacRumors.
Staples now offers its customers access to Apple Pay, a new service that will transform mobile payments with an easy, secure and private way to pay. In Staples over 1,400 stores in the United States, Apple Pay works with iPhone 6, iPhone 6 Plus and Apple Watch, upon availability.
When Apple Pay was first announced, Staples was listed as one of the retailers implementing in-store support for the payments service "later this year" along with Anthropologie, Free People, Sephora, Urban Outfitters, and Walt Disney World.
Staples has been an eager Apple Pay partner, initially promising support for the service back in September. The Staples iOS app has included Apple Pay support since it first launched on October 20, and when Staples announced Apple Pay integration, it said that in-store availability would be rolling out "within a few weeks."
Apple first teamed up with Staples last year, with the two striking a deal that saw Staples selling Apple products in its U.S. stores for the first time beginning in September. Since then, Staples has gone on to heavily promote Apple products both online and in stores, offering frequent deals.
With the addition of Staples, Apple Pay now has 34 retail partners, including competing office supply store Office Depot and other major retailers like Macy's, Disney, Foot Locker, Petco, Walgreens, and Toys R Us. Apple Pay is also accepted in any store that supports NFC contactless payments.
Retailers have largely been silent on the popularity of Apple Pay during its first month of availability, but Whole Foods' chief information officer told The Wall Street Journal that the company had processed 150,000 Apple Pay transactions in the 17 days following its October 20 debut. That equates to an estimated one percent of all Whole Foods transactions.