Apple Reportedly Eyeing Los Angeles' Historic Broadway Trade Center for Retail and Corporate Campus
Apple may open a new retail store and corporate campus in downtown Los Angeles, according to a report in Downtown LA Examiner (via ifoAppleStore). The new location would be situated in the historic Broadway Trade Center, which opened in 1908 as Hamburger's Department Store and occupies almost a full city block. Apple's expansion in Los Angeles would be part of a 10-year-long "Bringing Back Broadway" initiative that has been working to revitalize the downtown district by attracting high-profile retailers and other businesses to the area.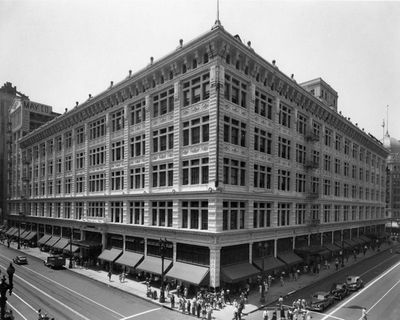 According to the report's sources, Apple has signed a lease for "several hundred thousand" square feet of space in the Broadway building.
Rumors swirling are Apple Corp will have a campus in the building with multiple uses such as office space, residential, and retail. There is also talk of Apple opening up a branch for their recent 3 Billion dollar purchase of Beats By Dre, which is a critically acclaimed subscription streaming music service, which makes the popular Beats headphones, speakers and audio software.
The inclusion of a residential component for the project does not seem to make much sense for Apple, so the mention does draw some skepticism to the entire report.
The rumored campus wouldn't be Apple's first LA location, as the company already operates several retail stores in the Southern California city and its suburbs, and Beats has its main headquarters in nearby Culver City. Apple has been expanding both its retail and corporate presences, opening a number of new stores around the world as well as offices in Seattle, Boston and Cambridge, England.