Apple Expanding Enterprise Efforts, Developing Dedicated Sales Force
Apple is planning an aggressive expansion into the enterprise market, hiring a sales team focused on talking with key enterprise customers, reports Reuters. The sales team may also work alongside "a dozen or so" app developers.
Apple is said to have formed partnerships with several app development startups, including ServiceMax and PlanGrid, both of which build customized industry-specific apps. ServiceMax, for example, already has customers that could be valuable to Apple, including Procter & Gamble and DuPont. Apple is also pursing other relationships with similar corporate app developers, possibly for an initiative aimed at providing custom-made apps for corporate customers.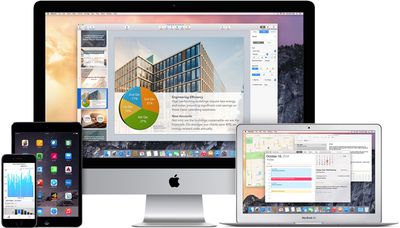 Apps developers and other sources familiar with Apple's plans who could not speak publicly provided additional details on how the iPhone maker is working behind the scenes.

The iPhone maker has worked closely with a group of startups, including ServiceMax and PlanGrid, that already specialize in selling apps to corporate America. The two people familiar with the plans, but who could not speak publicly about them, say Apple is already in talks with other mobile enterprise developers to bring them into a more formal partnership.
In addition to forming partnerships with app developers, Apple is also said to be sending sales teams to speak with the chief information officers of major companies, including Citigroup, which is already in talks to sign up for an enterprise package with Apple.
Earlier this year, Apple announced a major enterprise-focused partnership with IBM, with IBM selling iOS devices to its corporate customers and developing more than 100 industry-specific native apps that are built from the ground up for the iPhone and the iPad in six sectors: banking, government, insurance, retail, travel, transportation, and telecommunications. According to the most recent earnings call, IBM's first apps will be coming before the end of the year. Apple has also developed a special AppleCare for Enterprise, which includes on-site repairs handled by IBM.
Apple's major enterprise push may be an effort to boost flagging iPad sales by attracting a new market and introducing new use cases. iPad sales have been on the decline in recent months, and during its October earnings call, Apple announced sales were down for the third straight quarter in a row.