Apple and IBM Focusing on Feedback-Driven Apps and Support in New Enterprise Partnership
This past July, Apple and IBM announced an exclusive enterprise mobility partnership that would see both companies collaborating on a series of new business apps and services. As a part of the agreement, IBM would begin selling iOS devices to its corporate customers, create iOS apps, and provide cloud services, while Apple would offer a new AppleCare service tailored to specific enterprise needs.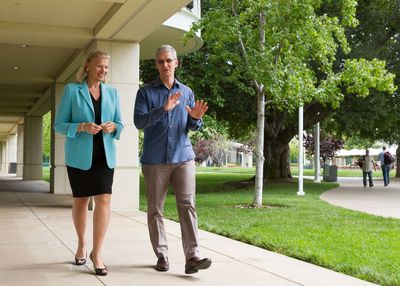 Apple CEO Tim Cook and IBM CEO Virginia Rometty (Apple/Paul Sakuma)


Now, in an interview with Tech Pro Research, IBM executive Glenn Finch has given new details on the company's partnership with Apple, including how its enterprise apps will fit into the iOS ecosystem. According to Finch, IBM will create a hundred apps across a number of industries including software for financial services, telecom, and health. The executive also noted that the apps with be tailored to "client demand", as feedback will play a major role in making design changes.
"The promise of this whole partnership," Finch explained to me, is that "you have a built-in adoption curve already present." His customers in the enterprise already use iPhones and iPads at home; they trust Apple, they trust the apps, and they intuitively know how to work with them. The devices are known.

Finch also spoke on where the companies overlap, stating Apple's focus on user experience and design compliment IBM's data-driven approach. AppleCare support for enterprises will also be a joint effort between the two companies, as Apple technicians will perform warranty work on hardware while app maintenance and support will be provided by IBM.
From a procurement perspective, Apple already has an enterprise group and IBM isn't looking to step on their toes - however, IBM has an army of salespeople with clients every day, something that Apple is sorely lacking. The two companies are working out the specifics there to make sure they don't trip over each other too much.
Apple and IBM will begin rolling out its first apps under the new partnership later this fall, as more apps are scheduled to be released in 2015. Both companies will also look to launch AppleCare support for enterprises later this year.